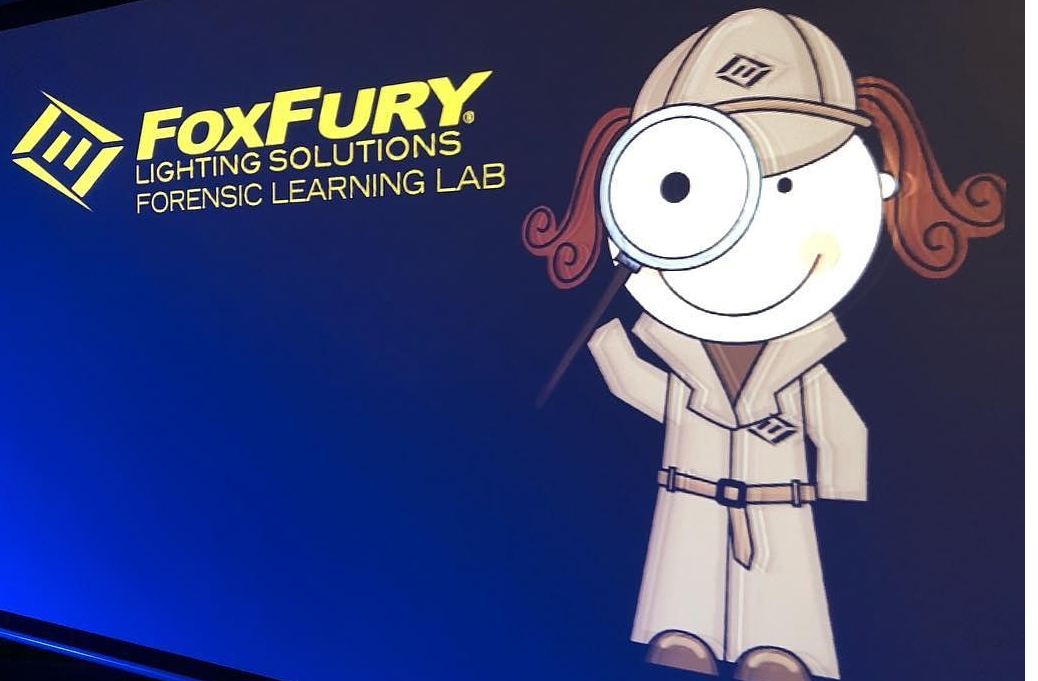 During the week of March 25th, 2019, the SciTech Hands On Museum in Aurora, Illinois hosted the first ever FoxFury Lighting Solutions Forensic Learning Lab. This is a hands-on exhibit focused on encouraging children to pursue careers and learning paths in the STEM field by showing them the ins and outs of forensic investigation. The Learning Lab is now one of over 200 hands-on exhibits at the museum.
FoxFury Lighting Solutions donated numerous forensic lights and filtered goggles to the lab for the children to use while Instructor, Eddy Weiss, led them through the demonstration. Weiss talked about searching for and gathering forensic evidence as well as the importance of understand infectious disease control. The hands-on portion of the demonstration let the children use the forensic lights and filtered goggles to uncover potential infectious disease 'threats' throughout the classroom as well as tracking a criminal in a mock scenario by finding footprints, handprints, and fingerprints.
Although the Museum has been in existence for years and frequently offered classes on forensics, it never had the opportunity to encourage children into the forensics field on a big scale like this until the Forensic Learning Lab started. Instructor Eddy Weiss spoke about the importance of the program, "Sci-Tech relies on partners and donations so they can encourage students to develop a passion for STEM at a young age and then to support their learning all the way through high school and college. Somebody has to step up and provide them with the tools needed to follow a pathway to a forensic science career. I think we saw that this week because of FoxFury Lighting Solutions."
For years, there has been a major initiative at all levels of educational institutions in the United States – from K-12 to colleges and universities – to promote student interest in STEM (science, technology, engineering and math) coursework. STEM includes the study of physics, chemistry and life sciences (i.e., biology, anatomy and anthropology), along with math and engineering.
Despite these efforts, there appears to be a continuous deficit in students entering the science fields. The U.S. National Academies recently reported that there is a major deficiency of scientists in the United States. According to reports, STEM interest suffers from a phenomenon known as the "leaky pipeline." Students start out pursuing science degrees but transfer to other degree programs eventually, which contributes to low STEM completion rates. Dropout rates are higher for females and minorities, contributing to disproportionately low percentages of those groups working in science fields. Because of this gap, the arena of forensics holds greater potential than most of the sciences.
Kids from the FoxFury Forensic Learning Lab showing off their FoxFury forensic lights and goggles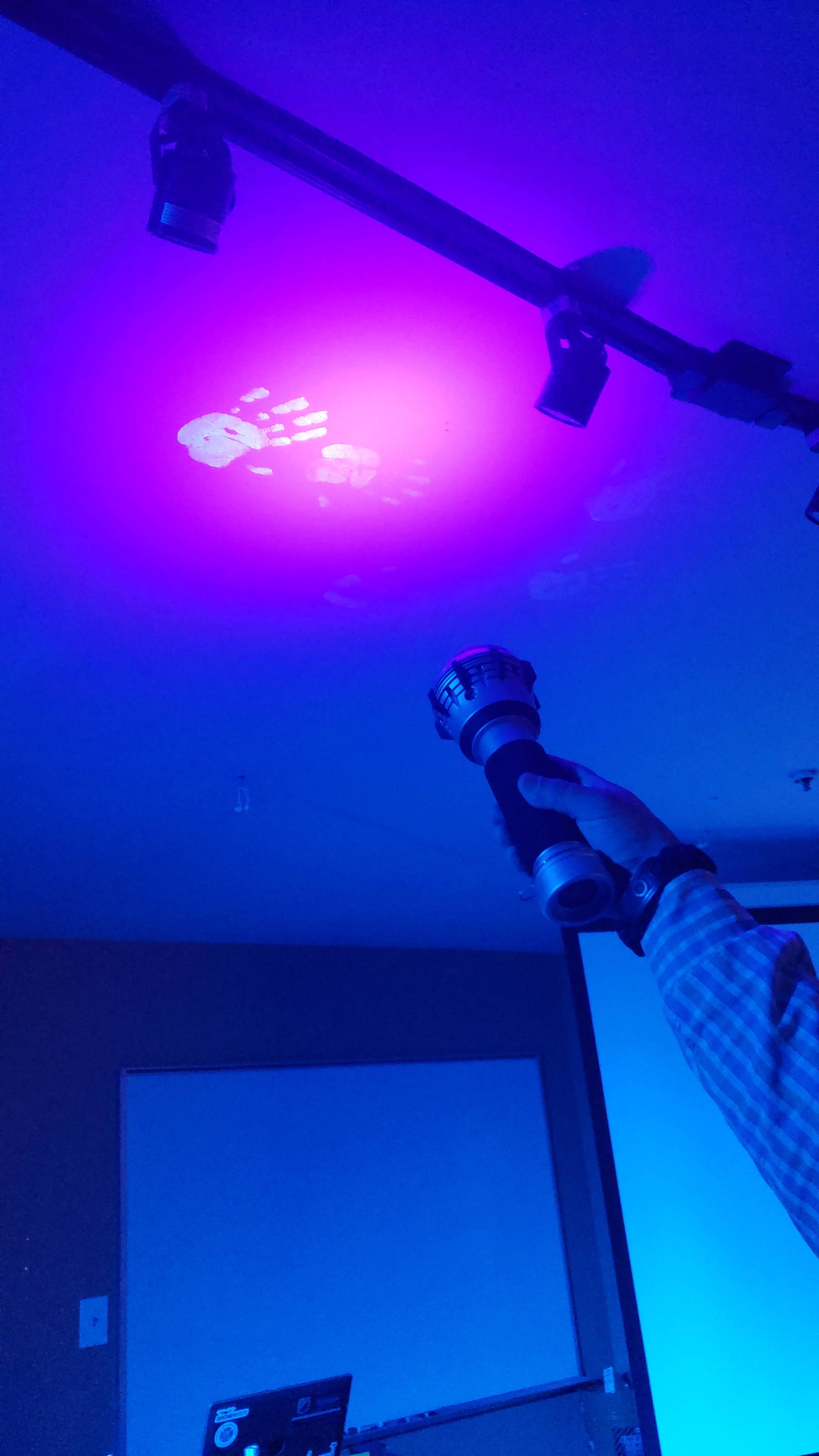 Instructor Eddy Weiss shows how the right wavelength of light can reveal clues unseen by the naked eye
We know that forensic science is a fascinating field of study that impacts public safety by utilizing scientific theories and techniques to assist law enforcement. The field has many specialties such as toxicology, entomology, DNA analysis, and digital forensics that require a background in STEM sciences. Not only is forensics an interesting career, but there is also a growing need for more forensic scientists. The United States Department of Labor predicted there would be a 17 percent increase in forensic science jobs between 2016 and 2026, which is much higher than the average for other occupations. With continual advances in forensic science technology, these numbers are likely to be higher than estimated.
According to recent reports, more than 14,000 individuals are employed full-time by government crime laboratories, but more qualified forensic scientists are needed. It is estimated that government laboratories have a case backlog of 570,100 requests for forensic services. Private labs are stepping in to assist with the forensic testing of evidence submitted to state and federal laboratories; however, these companies are also in need of their own qualified forensic scientists.
The potential for growth in the field and the hands-on work involved would make forensics seem like a natural career choice for many students. But as with other STEM professions, it is a struggle to keep students on this career path once they start. Weiss believes it is the responsibility of academic institutions and individual educators to change this trend by creating a learning atmosphere within classrooms that fosters a love for the sciences. But without the support of the manufacturers and specialists already in this field, willing to donate product, time, and money, this will not happen.
The goal should be to encourage students to develop a passion for STEM at a young age and support their learning through high school and college, providing them with the tools needed to follow a forensic science career. One of the best ways to create enthusiasm among future scientists is through active-learning initiatives and case-based scenarios, which provide real-world examples of what scientists encounter in the field.
Sci-Tech Program Director Ian McLeary said he was grateful for the FoxFury donation and the week's programs: "It was really cool seeing the kids be able to interact with the real science and equipment that we have here. This is a great addition to our programs here at Sci-Tech. I even learned that when you see the surfaces, you may think they're clean, but deep down, they are disgusting and full of germs and creepy crawly things. The kids loved that as well. It was really cool seeing the kids' faces light up when they found the hand prints on the wall and finding all the little clues. One of the kids had a notebook and was taking notes like a real detective and afterwards talked to his mom and she was really excited because he wants to be a CSI!"
The SciTech Hands On Museum is in the process of making the FoxFury Lighting Solutions Forensics Lab a permanent exhibit with daily availability. This should be complete by late 2019. In the meantime, the Forensics Lab will be available a couple of times a month. Be sure to check out the Museum's website for more information. And listen to Eddy Weiss' latest episode of the In the Arena podcast to hear more about their time at SciTech Museum.