FoxFury Lighting Solutions will display its portable, rechargeable LED area lights and spotlights at the Police Fleet Expo-Southwest (PFE-Southwest) next week in Fort Worth, TX. These quick deployment scene lights can be be mounted inside a vehicle of any style and travel to places where generator powered lights cannot.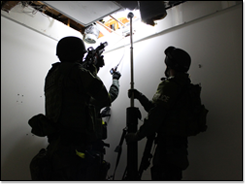 FoxFury first developed its original Area-Spot light back in 2008 and released what is now known as the Nomad Prime in 2010. This light was unique in that it was self-contained and could be used as both a wide beam area light and as a focused spotlight. This versatile light uses CREE LED technology and was rechargeable, portable and could stow or deploy in 20 seconds. 

The Nomad Prime has proven to be a strategic lighting tool for firefighting, law enforcement, industrial and photographic applications. In the field of law enforcement, niche lighting applications for the Nomad include SWAT, checkpoints / inspections and crime and accident scenes. 

FoxFury will be bringing the 4,000 torch lumen Nomad Prime to PFE-Southwest and to Fort Worth for the first time. FoxFury will also showcase the two newest members of the Nomad family of Area-Spot lights at the show as well:
Nomad 360: a 7,000 torch lumen Area-Spot light that also serves as a 360 degree scene light.
Nomad NOW: a 2,500 torch lumen LED lantern that offers area lighting and spot lighting. Can be handheld, hung on a wall or mounted on a tripod.
Nomad 360 (left) and Prime (right) 

All Nomad light can be mounted in a vehicle or wall (bulkhead) via Nomad wall mounts. They are easily removable, mount securely and can be used in or out of vehicles without cords and connections. Since these lights do not require generators, there is no noise produced and no cords / cables that can serve as trip hazards. 

"Our strategic area lights are able to go where vehicles and vehicle mounted lights cannot. Our Nomad lights fill niche lighting needs in law enforcement and we're excited to show them at PFE-Southwest," LE / Military Sales Manager for FoxFury. 

These lights all run on a rechargeable Li-ion battery system. Battery life is up to 3 hours on the high mode and up to 24 hours on the low mode. 

The exhibit portion of PFE-Southwest runs May 23-24, 2013 at the Forth Worth Convention Center in Ft. Worth, TX. FoxFury's lights will be in booth 206. 

About FoxFury Lighting Solutions: 
FoxFury Lighting Solutions creates unique and cutting edge lighting products that reflect the needs of our customers, who demand quality and dependability. FoxFury is best known for its niche LED headlamps designed for specific markets including Fire, Industrial, Hazardous Area, Law Enforcement, Forensics and Recreational. FoxFury was formed in 2003 and operates out of Vista, CA USA. You can follow FoxFury on Twitter @foxfuryLED 

About Police Fleet Expo: 
Police Fleet Expo is the only organized, designed and operated expo by the Police Fleet Community, for the Police Fleet Community.