***FOR IMMEDIATE RELEASE***FoxFury LLC, Vista, CA. August 13, 2012FoxFury is Bringing its LED Riot Vehicle Lights and Portable LED Area Lights to the Police Fleet Expo in Charlotte
FoxFury Lighting Solutions will be showcasing its riot control LED vehicle lights and portable rechargeable LED area lights at the Police Fleet Expo (PFE). FoxFury will also display two new lights designed specifically for law enforcement in booth #644. The PFE Exhibit Hall will be open from August 15-16 in the Charlotte Convention Center.
The Sunbolt Riot is a powerful vehicle mounted LED light for crowd and riot control. This niche light comes with FoxFury's Turbo strobe, a varying frequency strobe that provides law enforcement with a tactical advantage in tense situations. The Sunbolt Riot is an effective, safe (non-lethal) lighting tool designed for urban assault and SWAT vehicles.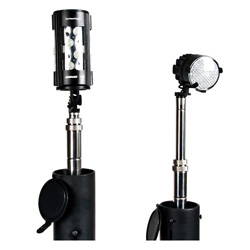 FoxFury's portable, rechargeable Nomad Area-Spot LED lights provide both focused and flood lighting. These self-contained, quick deployment lights set up in 20 seconds. They can be wall mounted in an incident command or SWAT vehicle but are compact enough to be stored in the trunk of a patrol car. 

The Nomad 360 can be quickly set up as a 360 degree scene light or 12 degree spotlight at a multi-vehicle accident (MVA), large crime scene and/or security checkpoint. The Nomad Prime can be utilized as a 120 degree area light or 8 degree spotlight at a command post, accident scene and/or SWAT standoff. Both Nomads travel easily to remote areas and run on a rechargeable Li-ion battery system. 

"The Nomads and Sunbolt Riot are great ways to help protect police and the communities they serve," said Tim Ellwood, LE / Mil Sales Manager for FoxFury. 

FoxFury will also display two new lights at the PFE Exhibit Hall in booth 644. The show runs August 15-16 at the Charlotte Convention Center in Charlotte, NC. 

About FoxFury Lighting Solutions: 
FoxFury Lighting Solutions creates unique and cutting edge lighting products that reflect the needs of our customers, who demand quality and dependability. FoxFury is best known for its niche LED headlamps designed for specific markets including Fire, Industrial, Hazardous Area, Law Enforcement, Forensics and Recreational. FoxFury was formed in 2003 and operates out of Vista, CA USA. 

About Police Fleet Expo 
Since 2004, police fleet professionals attended the Police Fleet Expo to network with their colleagues to be at the forefront and learn what's new for police fleets. PFE provides the venue for police fleet professionals and fleet personnel with police responsibilities who are eager to improve and develop their skills, and who need a dedicated police conference to address their short- and long-term needs.