***FOR IMMEDIATE RELEASE***FoxFury LLC, Vista, CA. January 11, 2013FoxFury to release new LED light and have special guest at SHOT Show 2013
FoxFury Lighting Solutions will exhibit its LED lighting tools at next week's SHOT Show 2013, a large annual trade show for the shooting, hunting, and firearms industry. FoxFury will showcase a new portable LED light and have a special mystery guest in its booth (#20458). In addition, FoxFury will display LED headlamps, shield lights and rechargeable area lights for law enforcement, military and professionals in the hunting and outdoor trade industry.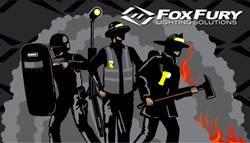 FoxFury Lighting Solutions is entering its 10th year of creating LED lighting tools. Advancements in LED technology have enabled FoxFury's lights to become better, brighter and more compact. FoxFury's lights are portable and powered by either alkaline or rechargeable batteries.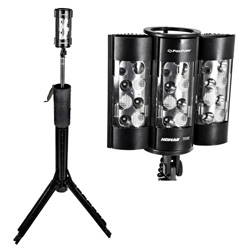 FoxFury is best known for its wide angle LED headlamps, aftermarket entry shield lights and innovative area-spot lights. These lights will be on display at FoxFury's booth (#20458), which will be located in the main Law Enforcement exhibit hall. FoxFury will have two new portable area lights including the Nomad 360 (pictured at left).

FoxFury last year had two special guests in its booth: the legendary John Bianchi and the guerilla film crew Beat Down Boogie (whose SHOT Show 2012 video has over 128k views). This year FoxFury will have a new (but well known) industry legend in its booth. The name of that individual will not be released until the start of SHOT Show.
"We're excited to return to the SHOT Show and show off our new LED lights. We look forward to seeing old friends, meeting new people, and learning more about how our LED lighting tools can help," said Tim Ellwood, LE / Military Sales Manager for FoxFury.
About FoxFury Lighting Solutions: 
FoxFury Lighting Solutions creates unique and cutting edge lighting products that reflect the needs of our customers, who demand quality and dependability. FoxFury is best known for its niche LED headlamps designed for specific markets including Fire, Industrial, Hazardous Area, Law Enforcement, Forensics and Recreational. FoxFury was formed in 2003 and operates out of Vista, CA USA. You can follow FoxFury on Twitter @foxfuryLED 

About SHOT Show 
SHOT Show is the world's premier exposition of combined firearms, ammunition, law enforcement, cutlery, outdoor apparel, optics and related products and services. The SHOT Show attracts buyers from all 50 states and more than 100 countries. The SHOT Show is owned and sponsored by the National Shooting Sports Foundation. You can follow the NSSF SHOT Show on Twitter @nssfshotshow