***FOR IMMEDIATE RELEASE***FoxFury LLC, Vista, CA. February 17, 2012FoxFury to Display LED Fire Helmet Lights and Area Lights at Firehouse World 2012
FoxFury Lighting Solutions will have its wide array of LED fire lights on display at next week's FoxFury Fire LightsFireHouse World 2012 in San Diego. FoxFury will be exhibiting its LED firefighter helmet lights, flashlights and portable area lights at the show from February 21-23 in booth 1945. FoxFury will also be a proud sponsor for the first annual Fire Service Appreciation Event (to benefit the San Diego County Burn Institute) held aboard the USS Midway.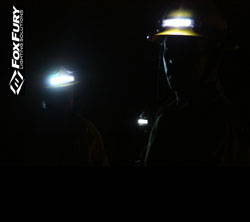 oxFury will feature its most popular lights for the fire service in booth 1945. FoxFury's LED lighting tools can be used in wildland and structural firefighting along with rescue and EMS operations. Featured products at the booth will include:
"We're excited to head back to San Diego for Firehouse World. Some of our lights, like the Discover and Nomad, are now brighter and better than they were a year ago. We're excited to see familiar faces, meet new people and hear what people have to say," said Phillip Spencer, FoxFury's Western Regional Sales Manager for Fire, Rescue and EMS. 

FoxFury is honored to participate in the first annual Fire Service Appreciation Event held aboard the USS Midway on Tuesday, February 21st from 6:30 pm to 11:00 pm. This charitable event is being organized by MES California along with the Burn Institute. 100% of the proceeds from this event will benefit the San Diego Burn Institute. FoxFury will have its Nomad lights and more on hand at the event.

FireHouse WorldFoxFury has been exhibiting at the Firehouse World Exposition and Conference since 2005. The show is held at the San Diego Convention Center. This year marks the 10th anniversary of Firehouse World being held in San Diego.


Deployment of the Nomad 4000 Area-Spot Light
Deployment of the Nomad 4000 Area-Spot Light
About FoxFury Lighting Solutions: 
FoxFury Lighting Solutions creates unique and cutting edge lighting products that reflect the needs of our customers, who demand quality and dependability. FoxFury is best known for its niche LED headlamps designed for specific markets including Fire, Industrial, Hazardous Area, Law Enforcement, Forensics and Recreational. FoxFury was formed in 2003 and operates out of Vista, CA USA. 

About Firehouse World Exposition & Conference 2012: 
Firehouse World, the West Coast's largest fire, rescue and EMS event, brings together over 7,000 industry leaders, instructors and fire professionals. This event includes 5 days of world-class education through its Hands-On Training, Preconference Sessions, and Conference Programs. Attendees can receive College Units for attending classes and California State Certification for attending select courses. More than 300 companies display the latest products, services and technology available, creating the largest showcase on the West Coast.