***FOR IMMEDIATE RELEASE***FoxFury LLC, Vista, CA. September 21, 2013FoxFury Bringing its LED Area Lights and Headlamps to the AAZK Zoo Keepers Conference
FoxFury Lighting Solutions is bringing its LED lights to next week's 2013 AAZK (American Association of Zoo Keepers) National Conference. The 40 year old conference will take place September 22-25, 2013 in Greensboro, NC. 

Zookeepers provide round-the-clock care of animals. Their hard work and careful monitoring of animals keeps zoo animals safe and healthy. When it is dark out, zookeepers rely on portable lighting to keep track of nocturnal animals and provide animal care and housekeeping. Facilities safety managers also rely on battery powered lights to inspect the grounds and perform routine maintenance.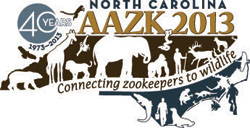 FoxFury offers professional-grade LED lights that solve niche lighting needs. FoxFury will have the following types of lights on display at AAZK:
LED headlamps with panoramic lighting - FoxFury's

 

Command 20 Tasker S

 

and

 

Discover Tasker S

 

headlamps provide a wide beam of light that enables zookeepers to quickly size-up the situation.
Focused LED flashlights

 

- these lights feature concentrated beams that illuminate greater distances. This is ideal in monitoring larger exhibits and habitats with multiple animals.
LED area lights and spotlights

 

- FoxFury's Nomad NOW, Prime and 360 Area-Spot lights are portable, rechargeable and cordless. Their generator-free design enables quick and easy transport for events, larger scale maintenance or use during power outages.
"We're excited to meet with zookeepers and learn how our various lights can help keep zoo staff and animals safe," said Tim Ellwood, Regional Sales Manager for FoxFury. 

The AAZK conference runs September 22-25 in Greensboro, NC. The exhibit portion runs September 23-24. 

About FoxFury Lighting Solutions: 
FoxFury Lighting Solutions creates unique and cutting edge lighting products that reflect the needs of our customers, who demand quality and dependability. FoxFury is best known for its niche LED headlamps designed for specific markets including Fire, Industrial, Hazardous Area, Law Enforcement, Forensics and Recreational. FoxFury was formed in 2003 and operates out of Vista, CA USA. You can follow FoxFury on Twitter @foxfuryLED 

About the American Association of Zoo Keepers: 
The American Association of Zoo Keepers is a memberhip association for animal care professionals to exchange information and network with one another. You can follow the AAZK on Twitter @AAZKinc 

http://www.FoxFury.com