***FOR IMMEDIATE RELEASE***FoxFury LLC, Vista, CA. July 13, 2012FoxFury LED Forensic Light Sources and Portable Scene Lights to Shine at IAI Forensics Conference in Phoenix
FoxFury Lighting Solutions is bringing its LED forensic light sources and portable LED scene lights to the IAI International Educational Conference in Phoenix, AZ. These white light, blue light and UV light LED flashlights, headlamps and area lights are used by forensic professionals to find evidence (including bodily fluids, hairs and fibers). These lights can be seen at the MEDTECH Forensics' booth #525 from July 24-25.

FoxFury has offered wavelength specific LED forensic light sources since 2005. Light sources range from UV to IR and feature a highly precise accuracy of plus or minus 2 nm. FoxFury's Command Series forensic headlamps enable hands-free operation and permit safer, more efficient multi-tasking.
FoxFury also offers forensic flashlight kits. These forensic light source kits include multiple light sources, goggles and a carrying case. The customizable HammerHead forensic kit consists of four single wavelength lights and three goggles. The Rook forensic kit consists of dual wavelength UV (380 and 395 nm) and blue (450 and 470 nm) light sources (with an optional 220 lumen white flashlight) and a yellow and orange pair of goggles. The Rook offers two peak intensities per light enabling increased absorption / fluorescence.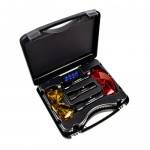 The Nomad Series A.S.L. (Area-Spot light) is a portable, rechargeable area light and spotlight. This self-contained, cordless LED light sets up in 20 seconds and can be easily carried to poorly lit crime scenes. Users can attach the diffuser lens to use the light as an area / scene light. Detaching the lens converts the light into a focused spotlight. 

"FoxFury is very passionate about our innovative forensic lighting tools. We look forward to learning more at IAI in order to help law enforcement resolve life and death issues," said Antonio Cugini, VP of Law Enforcement & Military Sales for FoxFury. 

FoxFury's forensic lights can be seen during IAI in the MEDTECH Forensics' booth #525. The conference runs July 24-25 in the Phoenix Convention Center. Booth visitors will be rewarded with an opportunity to check out FoxFury's newest light, which promises to be of significant value to the forensic and crime scene community. 

About FoxFury Lighting Solutions: 
FoxFury Lighting Solutions creates unique and cutting edge lighting products that reflect the needs of our customers, who demand quality and dependability. FoxFury is best known for its niche LED headlamps designed for specific markets including Fire, Industrial, Hazardous Area, Law Enforcement, Forensics and Recreational. FoxFury was formed in 2003 and operates out of Vista, CA USA. 

About IAI 
The 97th International Educational Conference offers over 130 lecture presentations and over 100 workshops concentrating on the trends and technologies that impact forensic identification. The conference will also showcase the latest forensic products and services with more than 140 booths.