***FOR IMMEDIATE RELEASE***FoxFury LLC, Vista, CA. February 2, 2012Experience SHOT Show 2012 Through the Eyes of Beat Down Boogie - Presented by FoxFury Lighting Solutions
FoxFury Lighting Solutions and Beat Down Boogie are very excited to share their SHOT Show 2012 video with the public. SHOT Show is an industry-only shooting, hunting and outdoor trade show in Las Vegas that attracted 61,000 people (during January 17-20). We hope that this video gives you an idea of what it was like.
The crew from Beat Down Boogie (BDB) came to SHOT Show as invited guests of FoxFury Lighting Solutions and No Airsoft for Old Men. BDB was able to partake in the SHOT Show Media Day as well as spending two days roaming the huge exhibition halls. The BDB crew filmed SHOT Show through the eyes of the beloved Snake and Ghost characters from their popular YouTube series "Modern War Gear Solid" (MWGS). 

The video that you're about to see features BDB's Micah Moore, Matthew Sumner and Brian Lee. BDB has also released a longer SHOT Show video on their YouTube channel with more footage of their Las Vegas and SHOT experience.
SHOT Show 2012
"This was our first time being at SHOT Show. We were like kids in a candy store. We're so excited to be able to share this video with people who, not being in the industry, will never get to experience the show themselves or who simply couldn't go this year due to whatever reason" said Moore, Creative Director and Editor of BDB. 

If you like the video, then please check out MWGS and Myth Hunters. BDB will be releasing its much anticipted Mario Warfare series (based on the popular video game franchise) in the near future. 

FoxFury displayed its upgraded portable, rechargeable Nomad 4000 Area-Spot light to a wide audience while at SHOT Show. Attendees were able to check out FoxFury's latest LED tactical flashlights, headlamps and ballistic shield lights along with the new limited edition CheckMate JB (John Bianchi) flashlight and holster set.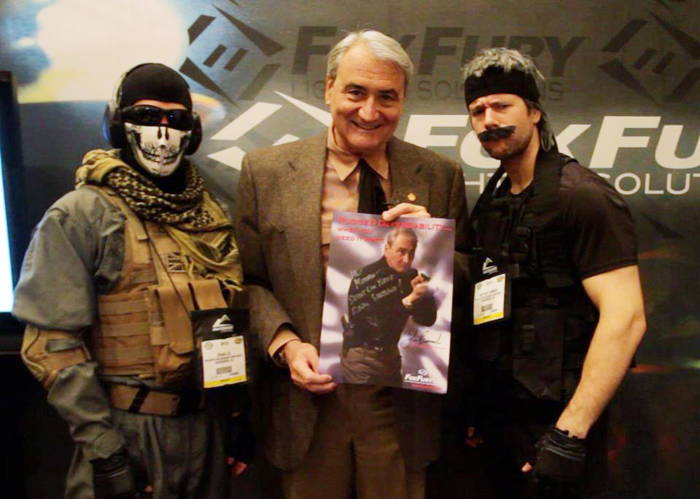 Snake & Ghost with John Bianchi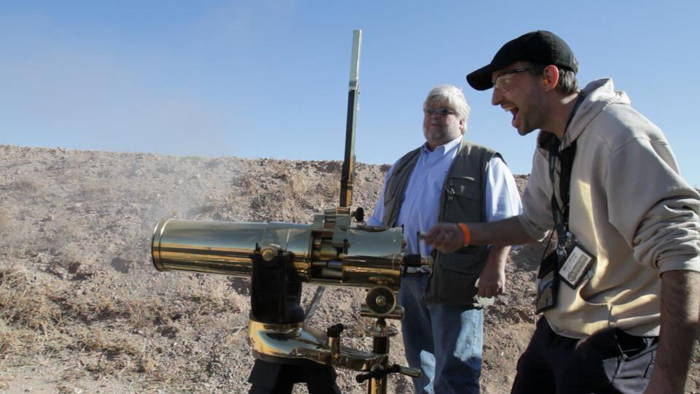 Micah from Beat Down Boogie shooting a Gatling Gun
About SHOT Show: 
SHOT Show is the world's premier exposition of combined firearms, ammunition, law enforcement, cutlery, outdoor apparel, optics and related products and services. The SHOT Show attracts buyers from all 50 states and more than 100 countries. The SHOT Show is owned and sponsored by the National Shooting Sports Foundation. 

About Beat Down Boogie (BDB): 
Beat Down Boogie is a guerrilla film team from North Carolina that bucked the traditional film industry and found success on YouTube. They create action films and capture cool events for a worldwide audience. Beat Down Boogie is best know for their video game parody "Modern War Gear Solid," a web series that's been enjoyed by over a million viewers.

About No Airsoft for Old Men (NAFOM): 
NAFOM has covered SHOT Show for the past 3 years. With over 30 years of industry exxperience, NAFOM delivers insights into the world of Airsoft, tactical gear and beyond. 

About FoxFury Lighting Solutions: 
FoxFury Lighting Solutions creates unique and cutting edge lighting products that reflect the needs of our customers, who demand quality and dependability. FoxFury is best known for its niche LED headlamps designed for specific markets including Fire, Industrial, Hazardous Area, Law Enforcement, Forensics and Recreational. FoxFury was formed in 2003 and operates out of Vista, CA USA.