***FOR IMMEDIATE RELEASE***FoxFury LLC, Vista, CA. October 24, 2012FoxFury to Bring its LED lights for Disaster Preparedness / Response and Emergency Management to EMEX / IAEM in Orlando
FoxFury Lighting Solutions will be exhibiting at the IAEM 60th Annual Conference & EMEX 2012 in Orlando, FL. FoxFury will present its LED headlamps, compact LED spotlights and portable area lights in booth #225 to emergency managers from around the world. The IAEM / EMEX emergency management event runs October 29 to 31. 

Emergency managers are tasked with devising strategies and finding the optimal tools to protect people and lead them out of harm's way when emergencies, disasters, and catastrophes strike. They lead their communities in disaster preparedness but must also devise strategies to deal with disaster response, recovery and mitigation.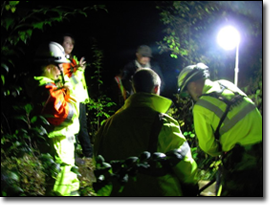 The challenging job of an emergency manager is made easier by staying up to date on the latest training, education and tools like those presented at IAEM / EMEX. Lighting is critical in incident response. When emergencies strike, power failures often ensue and lighting is at a premium. 

For example, the July 2012 storm that hit the eastern US knocked out power to over 3 million people (1.4 million of which still lacked power three days after the storm). Since generators cannot safely be used indoors, battery powered LED lighting in the form of flashlights, headlamps and area lights is vital. 

FoxFury offers dependable long lasting LED lights that assist emergency managers, homeland security professionals and first responders in preparing for and dealing with the aftermath of disasters. Some of FoxFury's lights are for specialized use including fire resistant firefighter helmet lights and intrinsically safe hard hat lights for use in hazardous areas. The Nomad rechargeable LED area light can be used in a wide variety of applications to provide flood / scene lighting that is free of cords, noise and pollution. 

FoxFury will feature its lights in booth #225. Tim Ellwood (LE / Military Sales Manager) of FoxFury and Eddy Weiss of Chasing4Life (C4L) will be on hand to assist. Eddy's disaster response team (C4LDRT) has used FoxFury's lighting tools for nearly three years in challenging recovery and response work in towns like Joplin (MO) and Clutier (IA). 

Eddy will also give a special presentation titled "How today's breakthrough innovations saves lives tomorrow" on October 31 at 12:40 pm. 

"Eddy and I would love to show you how our lights can save precious time and lives," said Ellwood. 

IAEM / EMEX runs October 29 to 31. This event will take place at the Rosen Centre Hotel & Orange County Convention Center in Orlando, FL. 

About FoxFury Lighting Solutions: 
FoxFury Lighting Solutions creates unique and cutting edge lighting products that reflect the needs of our customers, who demand quality and dependability. FoxFury is best known for its niche LED headlamps designed for specific markets including Fire, Industrial, Hazardous Area, Law Enforcement, Forensics and Recreational. FoxFury was formed in 2003 and operates out of Vista, CA USA. You can follow FoxFury on Twitter @foxfuryLED 

About Chasing4Life: 
Chasing4Life is an educational organization focused on educational tours, disaster preparedness, emergency management, disaster response and disaster research. Its team's members have responded to disasters around the world and it is our hope that they will continue to do so. Follow them on Twitter @chasing4life 

About the IAEM / EMEX: 
EMEX 2012 brings together the latest technological advances in homeland security and disaster preparedness suppliers under one roof, under the auspices of the International Association of Emergency Managers' 60th IAEM Annual Conference. Follow them on Twitter @iaem