***FOR IMMEDIATE RELEASE***FoxFury LLC, Vista, CA. October 22, 2013FoxFury Displaying LED Scene Lights at EMEX Emergency Response and Homeland Security Expo
FoxFury Lighting Solutions will be exhibiting its LED headlamps, flashlights and portable, rechargeable area lights at the IAEM 61st Annual Conference & EMEX 2013 in Reno, NV. This international emergency management event runs October 28 to 30.
Emergency managers work hard to prepare their communities for when disasters (including severe weather) strike. This includes disaster preparedness, response, recovery and mitigation planning. Staying up to date on the latest training at IAEM educates managers on best practices. Learning about new life-saving tools at EMEX may help save time, resources and even lives.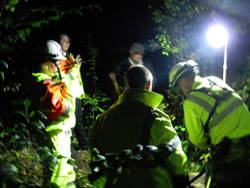 Lighting is critical in planning and incident response. When emergencies strike, power failures often ensue and lighting is at a premium. Millions of Americans were without power (and therefore blacked out) for days to weeks last year due to severe weather events like Hurricane Sandy. Since generators and fuel are harder to come by in blackouts, battery powered LED lighting in the form of flashlights, headlamps and area lights is vital. 

FoxFury offers dependable, portable and long lasting LED lights that assist emergency managers, homeland security professionals and first responders in disaster planning and recovery work. FoxFury will feature the following lights at EMEX in booth #511:
Intrinsically safe headlamps - UL913 certified headlamps and hard hats for use in hazardous areas.
Portable, rechargeable area lights - the self-contained Nomad Prime, NOW and 360 Area-Spot lights offer area lighting and spot lighting. They utilize Li-ion batteries and have a cord-free, generator-free design for maximum portability and safety.
Long distance right angle flashlights - powerful, compact narrow beam lights that illuminate far downrange.
Antonio Cugini and Mike McBride of FoxFury and Eddy Weiss of C4L & Associates will be on hand to assist. The C4L & Associates disaster response team (C4LDRT) has used FoxFury's lighting tools for four years in challenging recovery and response work around the US including last year's Hurricane Sandy. 

"We're excited to return to EMEX and better learn how our lights can assist emergency managers, said Cugini, VP of LE / Military Sales for FoxFury. 

Weiss will give a special presentation at IAEM / EMEX titled "Overload: Can We Plan For The Unimaginable?" This program looks at the difference between planning for past disasters and planning for what might actually be in our near future. 

IAEM / EMEX runs October 28 to 30. This event will take place at the Silver Legacy Hotel & Reno Events Center in Reno, NV. 

FoxFury will also have its Reach For The Light helmet on display at EMEX. This special custom firefighter helmet was created to bring awareness to responder stress and encourage first responders to seek out help and gain victory over it. FoxFury is working with C4L & Associates, 1st Responder Treatment and a few others on this special project. 

About FoxFury Lighting Solutions: 
FoxFury Lighting Solutions creates unique and cutting edge lighting products that reflect the needs of our customers, who demand quality and dependability. FoxFury is best known for its niche LED headlamps designed for specific markets including Fire, Industrial, Hazardous Area, Law Enforcement, Forensics and Recreational. FoxFury was formed in 2003 and operates out of Vista, CA USA. You can follow FoxFury on Twitter @foxfuryLED 

About C4L & Associates: 
C4L & Associates (previously known as Chasing4Life) is an educational organization focused on educational tours, disaster preparedness, emergency management, disaster response and disaster research. Its team's members have responded to disasters around the world and it is our hope that they will continue to do so. You can follow C4L & Associates on Twitter @Chasing4Life or on Facebook. 

About the IAEM / EMEX: 
EMEX 2013 brings together the latest technological advances in homeland security and disaster preparedness suppliers under one roof, under the auspices of the International Association of Emergency Responders Annual Conference. 

http://www.FoxFury.com