FoxFury LLC, Vista, CA. April 20, 2012FoxFury's Breakthrough LED Firefighter Light Slays Smoke and Saves Lives
Firefighters now have a new weapon to help them cut through smoke and better assess situations. The ultra fire resistant FoxFury Breakthrough BT2 and BT3 LED right angle lights, unveiled yesterday at FDIC 2012, are the ultimate smoke-cutting lights. These lights utilize FoxFury's SMO-KUT smoke cutting technology and perform the job of two lights (conventional right angle light and box light). 

The Breakthrough's focused SMO-KUT beam is able to provide the smoke cutting ability of larger, heavier light boxes while in a right angle light body. The ability of the BT2 and BT3 to do the job of two lights in one allows firefighters to have free hands in all situations. They also increase visibility and efficiency.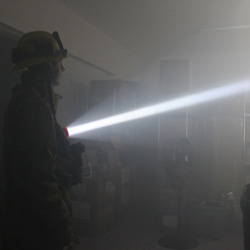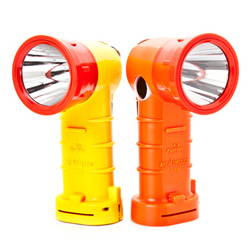 The 200 torch lumen BT2, with a 2 degree beam, is best at cutting through smoke. The 600 torch lumen BT3, with a 3 degree beam, is best at lighting a scene. Both lights are waterproof, fire resistant and run on 4 common AA batteries. They also feature a removable wedge, stainless steel clip and key ring and rear bottle opener (for liquid refreshments).

"The BT2 and BT3 redefine the right angle light by offering a quantum leap in smoke cutting capability. FoxFury's development team strives to create the latest and greatest tools to help firefighters stay safe and save lives," said Mario Cugini, CEO of FoxFury.
These lights were unveiled yesterday at FDIC 2012 in Indianapolis and will be available in June 2012.

"I had the privilege of testing these lights before their release. They're great products and I'm excited to see what they can do in fire conditions," said Kurt Corral FF/PM.

About FoxFury Lighting Solutions: 
FoxFury Lighting Solutions creates unique and cutting edge lighting products that reflect the needs of our customers, who demand quality and dependability. FoxFury is best known for its niche LED headlamps designed for specific markets including Fire, Industrial, Hazardous Area, Law Enforcement, Forensics and Recreational. FoxFury was formed in 2003 and operates out of Vista, CA USA.

About FDIC 2012: 
FDIC 2012 in Indianapolis attracts firefighters from around the world to train, network and learn from the industry's most elite instructors. FDIC features fire house H.O.T. (Hands-On Training) courses, classroom sessions, and an expo showcasing thousands of firefighting equipment and products.