FoxFury Lighting Solutions will exhibit its portable area lights, spotlights and shield lights at the 27th Annual Police Security Expo (PSE) in Atlantic City, NJ. This will be FoxFury's debut at this large law enforcement event, which will attract over 7,000 industry professionals from June 25-26, 2013.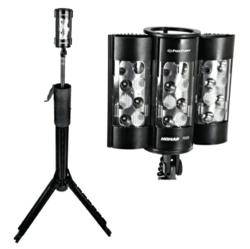 Law enforcement officers are tasked with responding to ever-changing threats in order to keep the peace. They typically protect people from one another but their job may include searching for people or property. Following natural disasters, law enforcement assists with post-disaster recovery and rescue efforts. Last year, Hurricane Sandy rocked the Northeast US and knocked out power and supplies for days. Portable area lighting is desperately needed in such times to help keep people (law enforcement included) safe in the dark. 

FoxFury designs and manufactures professional grade LED lights including area lights. Several lights are designed specifically to meet law enforcement needs (from forensic to SWAT). FoxFury will feature the following lights at PSE in booth 736:
Nomad NOW and Prime Area-Spot lights: portable,

 

rechargeable area lights and spot lights. Deploy quickly on scene providing focused and flood lighting. Ideal at command posts, crime scenes and SWAT standoffs (perimeter lights).
Nomad 360 scene light: area light, spot light and

 

360 degree scene light. Ideal at security / vehicle checkpoints, accident scenes and field inspections / investigations.
LED riot shield lights: aftermarket entry and ballistic shield lights for special operations use.
Rook MD1 and CheckMate flashlight: powerful CREE LED flashlights that can run on either two CR123 batteries or one rechargeable 18650 battery. These lights are up to 600 torch lumen and feature a high, low and Turbo-Strobe mode.
BT2 and BT3 focused lights: these narrow beam, AA battery-powered right angle lights are terrific in long distance searches for people or property.
"Come by our booth and see a demonstration of our time and life saving Nomad lighting tools. Odds are they can be of immediate help to your department," said Tim Ellwood, Regional Sales Manager for FoxFury. 

PSE runs June 25-26 at the Atlantic City (New Jersey) Convention Center. 

About FoxFury Lighting Solutions: 
FoxFury Lighting Solutions creates unique and cutting edge lighting products that reflect the needs of our customers, who demand quality and dependability. FoxFury is best known for its niche LED headlamps designed for specific markets including Fire, Industrial, Hazardous Area, Law Enforcement, Forensics and Recreational. FoxFury was formed in 2003 and operates out of Vista, CA USA. You can follow FoxFury on Twitter @foxfuryLED 

About PSE: 
Police Security Expo is the nation?s longest running, best attended & most highly regarded Product Showcase designed for Law Enforcement, Homeland Security, Corporate Security, Private Security & Government Professionals. 

http://www.FoxFury.com