Last night's #EpicIowaShoot was terrific. We filmed at a tornado site...the tornado struck last month. The shoot was incredibly realistic and served as a great training exercise for local responders who do have to deal with EMS and rescue efforts following tornadoes. We had Collin Chappelle along with Luisa Winters of Sundance Media Group helping us film. Collin was doing videography around the set while Luisa was flying her drone and capturing unique vantage points.  
We had originally planned on returning to this exact location tonight to shoot specific shots that we didn't get a chance to get to last night. This included some up close footage of some of the response work being done. Unfortunately, it's not meant to be as there is severe weather on the horizon tonight that has caused us to shift our plans. More specifically, wind gusts up to 80 mph plus hail and possible tornadoes.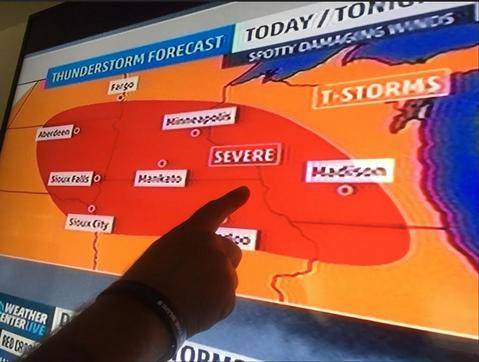 As you can see from this picture, the shoot location is in an area that may be seeing severe thunderstorms.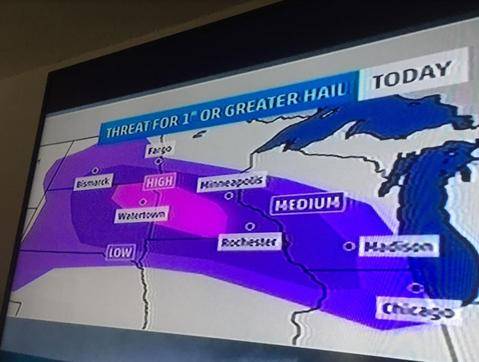 In addition, the hail threat is a serious issue across this region. Fun fact: hail greater than 1" (the diameter of a US quarter) is considered severe hail. It can cause damage to persons and/or property.  
While 80mph (128 km/h) winds, 1" (2.5 cm) hail and tornadoes would make for incredible video footage, it's wildly unsafe to the team and their equipment. The team is currently strategizing options for alternative shoot sites and ideas.
While not standard on normal photo and video shoots, the team is in radio communication with local emergency response and listening for weather warnings.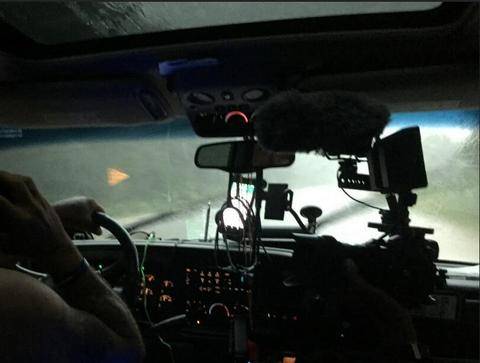 Less than 1 hour later, the rain has kicked in decreasing visibility and making road driving conditions more challenging.  
We'll keep you posted as tonight's shoot schedule unfolds.