We met Mitch Kezar, from Kezar Media, at SHOT Show in Las Vegas a few years ago. Mitch has been using our FoxFury lights in remote locations and in harsh weather conditions around the U.S. ever since. Let's take a look at one of these photo shoots that Mitch did for a corporate client in Missouri.
This particular shoot involved two police officers who used flashlights to scan and clear an old industrial room. The best location for the desired visual effect was a dimly lit industrial building. Fog was cycled inside the room, which added atmosphere and intrigue. It also helped focus the eye so that details like the flashlight beams could stand out. After the fog was dispensed, it was selectively distributed around the room to create a uniform fog pattern.
Once the fog was in place, it was time for the FoxFury Nomad™ NOW lights to be used on set. For this shoot, 2 NOW lights were utilized in addition to whatever natural light entered the room via the window. Each NOW light (NOW #1 and NOW #2) had a gel filter applied to the outside of the light to warm up the color temperature of the emitted light. This immediately brought a rich, warm tone to the set that was equivalent to tungsten lighting.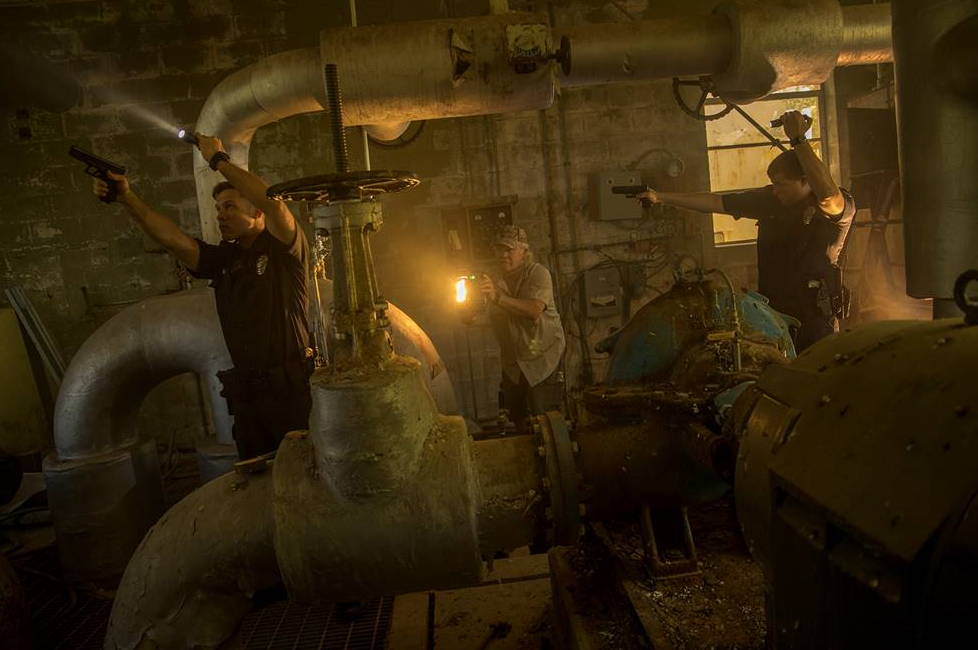 With the talent (two officers in this case), Mitch had his camera in place and was ready to start shooting pictures. To get the desired shot, Mitch's assistant Steve served as a "blue-eyed, cordless, voice-activated light stand" that held NOW #1. As you can see in the behind the scenes (BTS) picture below, Steve was strategically positioned behind the officer. Steve held NOW #1 at around chest height behind the officer on the left. This allowed proper back-lighting to help separate the officer from the background. NOW #2 was positioned on the floor behind the officer on the right to back-light him.
When we see the finished product below, Steve and NOW #1 are hidden from view, perfectly positioned behind the officer in the foreground. The light emitted from NOW #1 properly backlit the officer in the foreground and added some layers of detail into the shot. The light emitted from NOW #2 provided sufficient back-lighting of the officer in the background, which helped separate him from the background and add some visual intrigue.
Mitch (off screen) and Steve were in the correct positions to get this shot. Remarkably, Mitch and Steve got all the shots they needed in around one hour, which is incredibly efficient. Mitch clearly has a lot of experience on these shoots and a terrific workflow.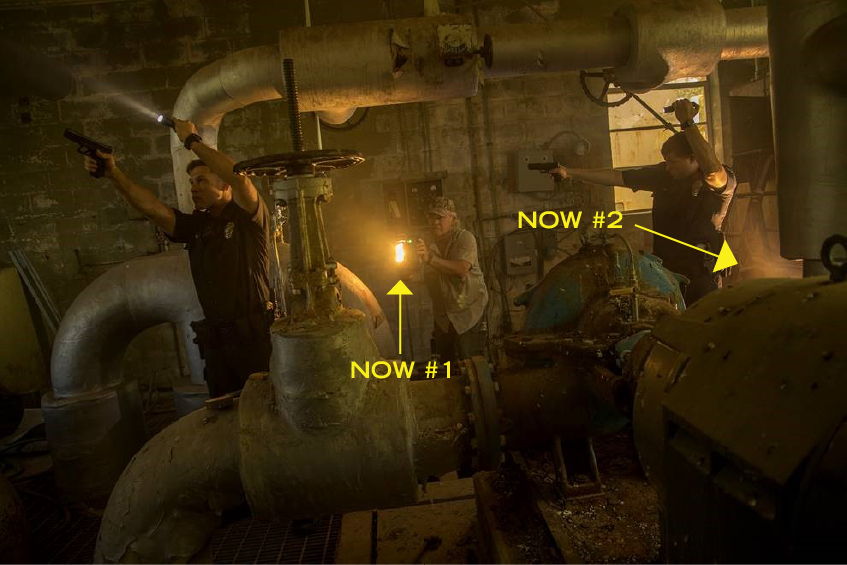 His decision to select the Nomad™ NOW lights for this shoot was due to the need to work quickly and safely with cordless, battery powered lighting. Cords would have been challenging given the tight spaces and a risky trip hazard. In the end, the shoot was a success.