Guest Post by Eddy Weiss of C4L & Associates
There is a popular ad campaign that ends each of its commercials with the question, "what's in your wallet?" The premise of the ad (and the message that the ad agency hopes you get) is that if you choose wisely, what is in your wallet can get you through the tougher times in life.
While tornadoes are perceived as a midwestern or plains states issue, the truth is that much of the United States is in the cross hairs of these monsters that lay waste everything in their path, and the truth is, every state in the U.S. including Alaska and Hawaii has experienced a tornado.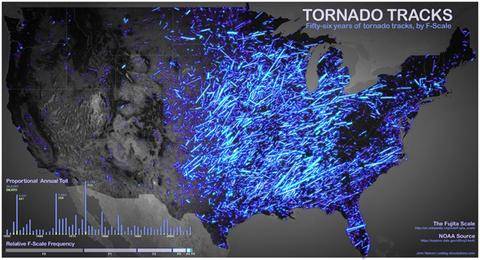 This graphic shows the paths tornadoes have taken over U.S. soil in the 56 years prior to the Joplin tornado in 2011. Map courtesy of NOAA
Why focus on tornadoes in this blog? In July, as part of the FoxFury #EpicIowaShoot, we recreated one such tornado in the form of a field exercise for northeastern responders. During this exercise, injuries, damage and timing of the now-famous Joplin, Missouri tornado, were recreated down to specific injuries at a large graduation party.
The Joplin tornado struck on Sunday, May 22, 2011 at 5:41 (all of which was recreated in our exercise right down to the exact time of sundown). The tornado was a catastrophic EF5-rated multiple-vortex tornado that was part of a larger late-May tornado outbreak. This tornado reached a maximum width of nearly 1 mile as it tore through the city of 52,000. It was graduation week in the Missouri community which meant that aside from church services beginning at the time of the hit, there were graduation parties and a large number of folks visiting from out of town.
Overall, the tornado killed 158 people (with an additional three indirect deaths), injured some 1,150 others, and caused damages amounting to a total of $2.8 billion.
We chose the Joplin scenario in order to film and create an exercise that would resonate with responders across the country - as Joplin saw responders from every state during the aftermath and cleanup. From the destruction of the city's hospital, to the massive loss of power and residential buildings, this tornado surely represented the worst case scenario; a true test for lights that claim to "stand up" in the harshest of conditions.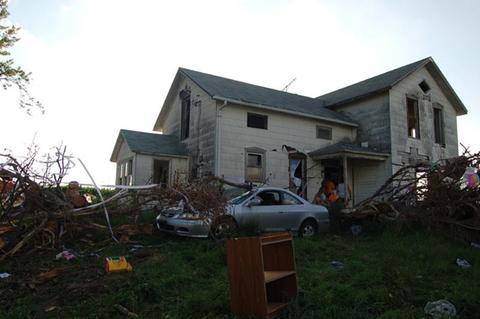 It took over 70 man hours to decorate this house for a graduation party and then destroy it to replicate the Joplin tornado strike! Photo courtesy C4L & Associates  
During the exercise, one of the most valuable of the FoxFury lights proved to be the headlamps. The immediate aftermath of a large tornado is chaotic and responders are far from stationary. Running from one victim to another, assessing access points to buildings and performing initial "seek and find" operations. With victims scattered about, buildings torn down, and walking wounded screaming for help, the situation was out of control before the responders even arrived on our scene. With the sun going down, the headlamps became crucial and were easily an immediate solution.
Once responders began to discover the enormity of the situation, the Nomad® NOW's were deployed and used to search small crevices under buildings, to light indoor and outdoor pathways and to mark the sides of one particular home that was full of graduation party guests but rapidly collapsing.
The Nomad® 360's were immediately deployed next by medics illuminating a makeshift triage area and brightening up a rather dangerous parking area for response vehicles. If you have never been on a tornado response, there is no way to describe how difficult it is to even place your fire truck or ambulance properly amidst debris, broken glass, burning buildings, power lines and downed trees. The Nomad® 360's performed perfectly and created "street lights" in a "town" with no power for us.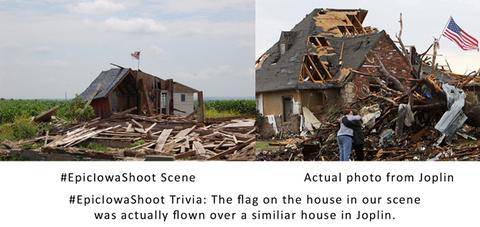 The Nomad® Primes were used the entire night. From placement in the basement of a collapsing house, to aid in the rescue of an elderly woman, to an open field with several injured, the Nomad® Primes were easily-moved, easily carried and an easily-deployed solution. Several firefighters took Nomad® Primes and used them slung over their shoulders to perform a search in other parts of the "neighborhood" among smashed buildings; this specific search uncovered a young girl trapped under large timbers in a building that had been completely destroyed by our tornado.
They say "proof is in the pudding" and we can honestly say, we created a pudding. From hand held Breakthrough® BT's and Scoutsto the Nomad® family of lights, lighting was never an issue during our fabricated Joplin Tornado. What's in YOUR wallet?