It's a few days after the tornado site shoot and our video team in Iowa has had more time to download behind the scenes footage. As was shown on Tornado Site Shoot: Part 1, an incredible amount of work and coordination went into this particular shoot as we had a large crew on location in a town with no power.
The premise of the shoot was that a tornado developed so rapidly that a group of partygoers couldn't get out of its path. Unfortunately, this can happen as tornadoes are unpredictable and on some occasions strike with little to no warning. First responders would then come up and help the victims. To make things more complex and realistic, there would be no power as tornadoes often cause blackouts. Responders therefore had to rely on personal and scene lighting. It was a combination training opportunity and video shoot that was captured by ground and sky.  
Since the goal here was to simulate authentic damage and injuries that could happen to persons and property, moulage was applied. What is moulage you ask? Per Wikipedia:
Moulage (French: casting/moulding) is the art of applying mock injuries for the purpose of training Emergency Response Teams and other medical and military personnel.
NOTE: You will get an up close view of moulage in the pics below. If you're squeamish, you may feel uncomfortable looking at these pics as they look graphic in nature. With that warning out of the way, everything you see below is fake and meant to demonstrate real injuries that could occur.
That said, here are more behind the scenes (BTS) pics that highlight some of the details that went into this shoot.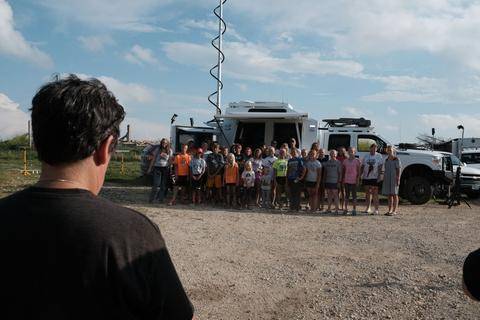 First off, a shoot this size doesn't work without an incredible team and amazing volunteers. These terrific ladies and gentlemen all gave up their day to participate. They spent time in the prep area having moulage applied and then took their positions later that night during the actual shoot.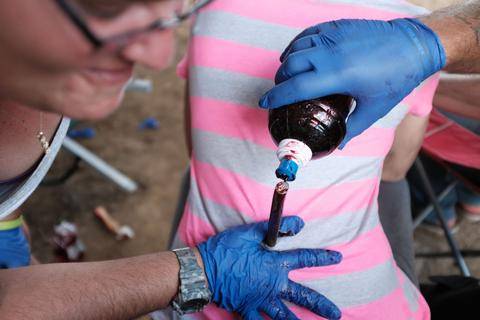 Moulage applied by a C4L & Associates team member to a volunteer who was acting as a victim. In this case, pieces of metal were welded together followed by being placed under her shirt. It was then wrapped around her with an elastic bandage and poked through her shirt. Fake blood was also applied to the metal bar. Could this happen in a tornado (or hurricane)? Yes, unfortunately.  
A second volunteer having moulage applied. Extreme wind causes items to break and fragments to fly. First responders (including firefighters, paramedics, EMTs and other response teams) have to be prepared to assess and treat puncture injuries like this as they have seconds to decide who needs help first. It's all part of the assessment and triage process. Response time is absolutely critical so practice and having a solid plan are key.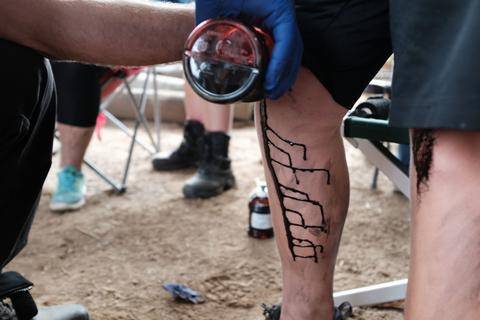 Here is another volunteer having fake blood applied to his leg. This shows a potential injury from flying debris like glass. In a tornado, victims are at increased rick of sustaining multiple injuries. For example, each emergency room patient in the 2013 Joplin tornado had an average of four injuries [source: Disaster Doc]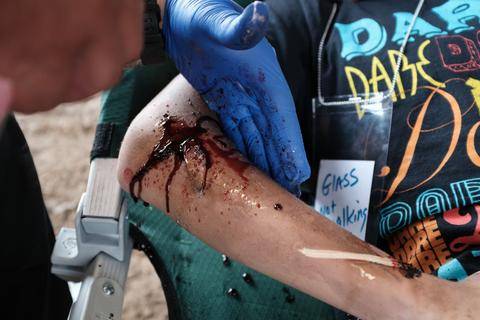 Here is a C4L team member applying moulage to yet another volunteer (victim). The intent was to make the injuries look as real as possible so that responders aren't as shocked if/when they ever have to deal with the real thing. As you can see from the tag around the volunteer's neck, each victim had the nature of their injuries written on the tag so that proper moulage could be applied to simulate their injuries.  
As mentioned in Part 1, this site was hit by a tornado the previous month. The damage was extensive in parts of the town and resulted in destroyed homes, barns, sheds, vehicles and other property. Having to search through a debris field like in the pic above is challenging for responders as they need to look for persons and pets trapped underneath the rubble.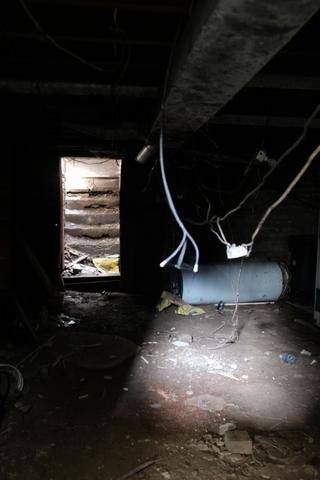 Here is the interior of a damaged structure that we're filming in. Since power is out, it's hard to see in here so responders would need to plan accordingly. It's important to have access to quality illumination when searching inside structures like this in order to avoid injuries caused by sharp objects, trip hazards, electrical sparks and gas leaks.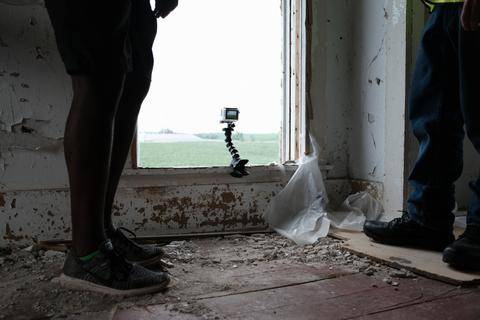 GoPro cameras were set up around the shoot location to capture footage from a unique vanatge point. The GoPro camera is connected using one of their mounts. This GoPro was stationary as it was clamped around the window sill. It was aimed outside to give a unique aerial perspective of what was happening below. We also had 2 videographers (thanks Chris and Collin) on the move and drone pilot / videographer (thanks Luisa) that were capturing footage during the night shoot.  
The people in Iowa are resilient. They come together as a community to help one another out and rebuild together. Their courage and determination is inspiring. Like this flag, they're still standing.
That it's for photos to share. The night shoot revealed some incredible footage. Upon conclusion of the night shoot, some of the firefighters and paramedics told us that the scenario was a little too real. Mission accomplished.
We were supposed to return to this site following day. Sadly, this site was hit by severe weather the following night, which affected many of the first responders and volunteers that helped us in this shoot. The wind was so severe that trees that were some 2 ft (0.6 m) wide broke in half. Parts of Wisconsin and Minnesota were also impacted by this severe weather and power was knocked out in several places. This follow up shoot was obviously cancelled.
A huge thank you to our partners who have worked hard to help make this shoot and others in the #EpicIowaShoot series happen. Those partners include:
Wondering what you can do before, during or after a tornado? The fine folks at Ready.gov (the official website of the US Department of Homeland Security) have a number of tornado safety tips.  
Also, here's a great article by Disaster Doc on what tornadoes can do (injury wise) and how to maximize safety. There are some insightful statistics in there.
Thanks so much for reading. Be sure to follow us on our social media channels to follow the #EpicIowaShoot as it rolls on.