We're on day 4 of the #EpicIowaShoot. As you may know, we've sent our video team out to Iowa to film some unique scenarios that first responders in the area could be called out to respond to. Joining us on this adventure are Collin Chappelle and Luisa Winters from Sundance Media Group who are helping us with land and sky videography, respectively. C4L & Associates provided manpower, scouted and set up locations and helped with all aspects of the shoot. David Nakatani is helping produce.  
Last month, a small rural town in Iowa was hit hard by a tornado. Some of the structures received significant damage. We're using some of those abandoned buildings as the backdrop for a tornado response film shoot we're doing tonight. One of the big challenges in this shoot is that there is NO power at all on location outside of using the vehicle batteries to charge / power equipment. Given the awesome tools we have to work with and the incredible number of people on set, we're using NO generators at all so that we can reduce trip hazards and communicate more easily.
Every electronic item therefore had to be battery powered. Our FoxFury Nomad scene lights are cordless and rechargeable, which will illuminate interiors and exteriors during tonight's shoot. The video crew spent several hours the previous night and part of the morning charging up the camera equipment, drone batteries (thanks P-Squared Group for letting us use your Quadcharger PRO drone battery charging system), lights and all other tools being used on set.    
We're blessed to have several volunteers who are acting as victims who will need to be assessed, rescue and/or treated. To live up to the epic name, we've gone all out with moulage (the art of mock injuries applied for the purpose of training responders) and set decorating to make the scenario as realistic as possible.
Here are some pics we can share of the daytime work that has been to make tonight's shoot an awesome one. NOTE: there is moulage in the pics below. It's meant to simulate possible injuries that could be sustained in a tornado. If you're squeamish, you've been warned.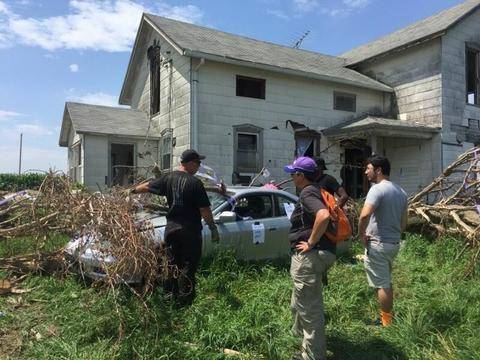 Here is Eddy from C4L along with Luisa and Collin planning out the shots from outside the tornado damaged home.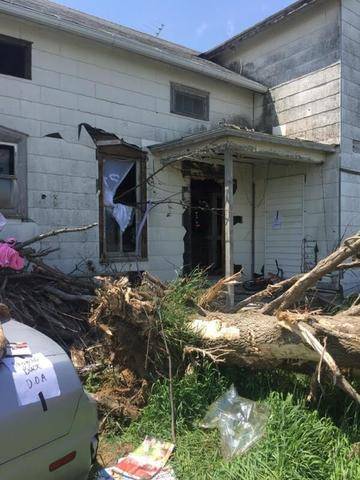 Here is the front door of this home. It was badly damaged during a tornado in June 2017.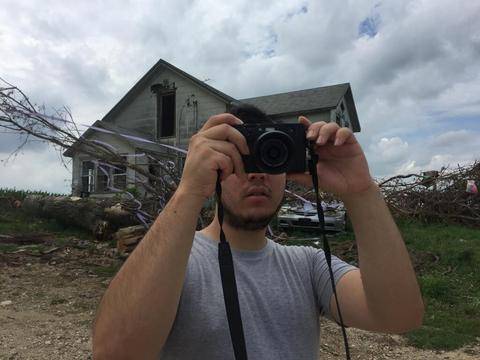 David taking a picture outside the home. The tornado badly damaged some trees and knocked over others as you can see in the background.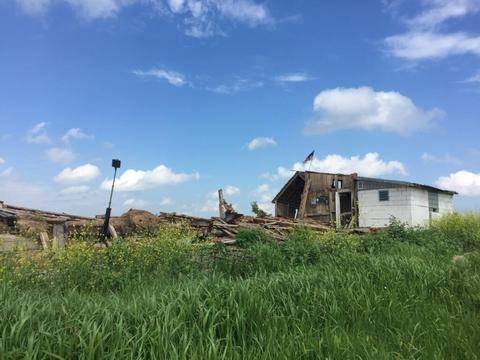 We set up a Nomad Prime scene light outside a home. Parts of this home were absolutely ripped apart by the tornado.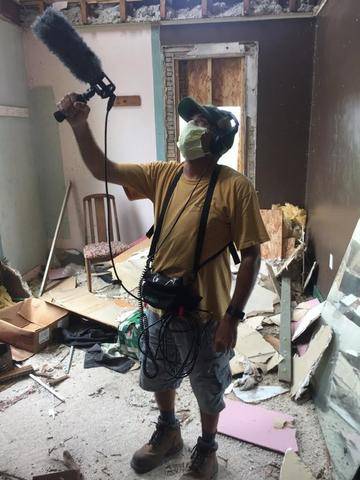 Here is our videographer Chris testing his audio equipment during his walkthrough of the damaged home.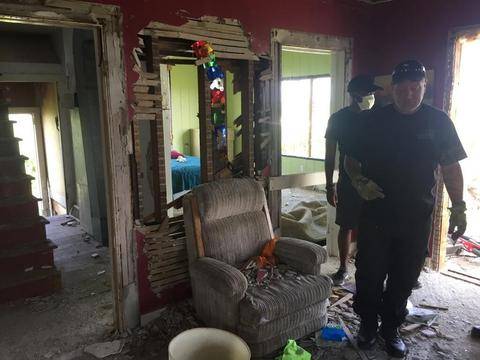 Collin and Eddy doing a walkthrough. Check out the damaged wood and destruction in each of the rooms.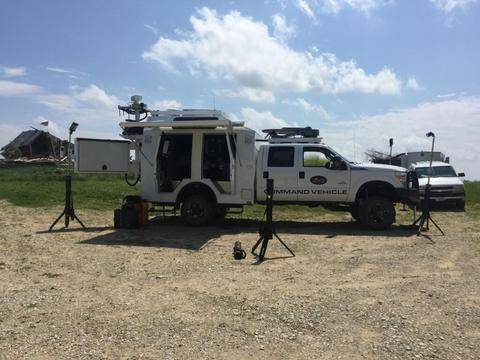 Back outside, Nomad lights set up around the Command Vehicle. These lights will be used by responders during the shoot.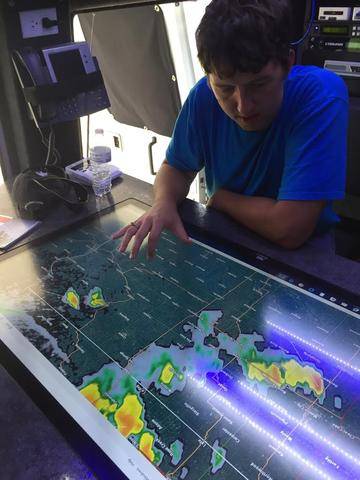 James from C4L was inside the Command Vehicle keeping an eye on the weather situation to ensure that it was safe to continue prepping for the shoot.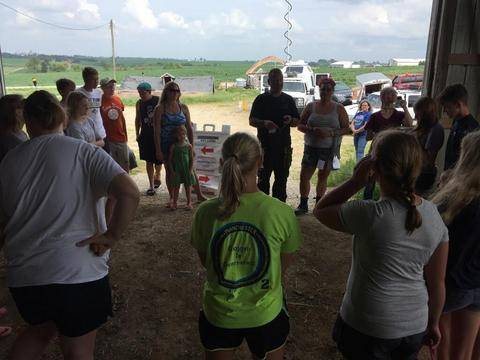 The volunteers are getting instructions for where to be and what to do during the shoot. They then went to a prep area to have moulage applied so that it's more realistic for the responders. It'll also lead to more dramatic footage.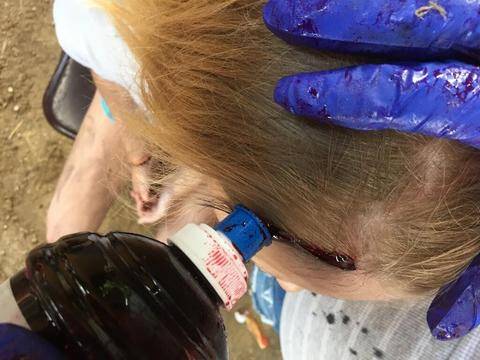 Here a C4L team member is applying fake blood to a volunteer. This scenario will act as a training drill for responders and they'll have to evaluate patients as if it were the real thing.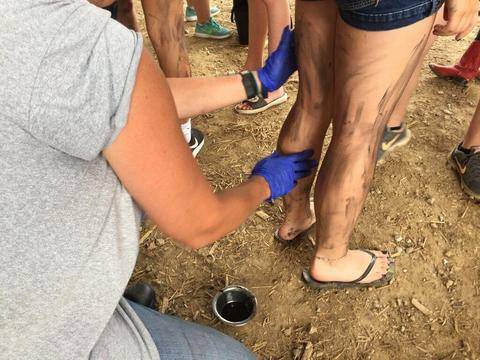 There is nothing clean and pristine about a disaster. Set makeup (moulage) is applied here to make the victims look more realistic.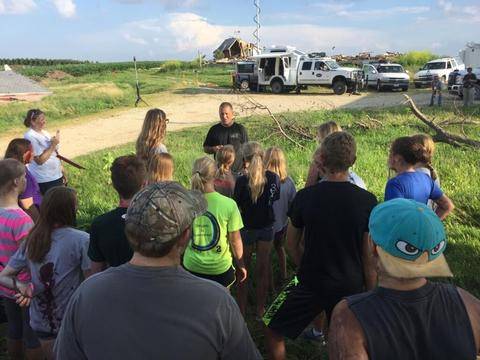 With moulage applied, volunteers are being instructed on final details prior to the start of filming.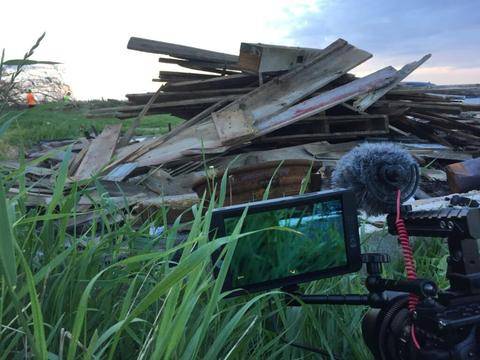 Finally, here is Chris' view in setting up for this video shoot.
That's a wrap for now. Volunteers are in place and responders are on their way so the shoot is about to start. Please be sure to follow us on social media to learn more about how the #EpicIowaShoot is progressing.  
Want to see more Behind The Scenes Footage? Then check out Tornado Site Shoot - Part 2