On September 5, 2019, FoxFury Lighting Solutions, Sundance Media Group, and Pix4D brought the popular Night CSI drone demo event back to Las Vegas for Interdrone 2019. The event demonstrates how drones can be used to photograph a crime scene and then import that data into Pix4D software to create a pointcloud and ortho-mosaic map of the crime scene. This demonstration illustrates the effective use of drone technology to quickly map and document a crime scene in a non-destructive manner.
the scene and conditions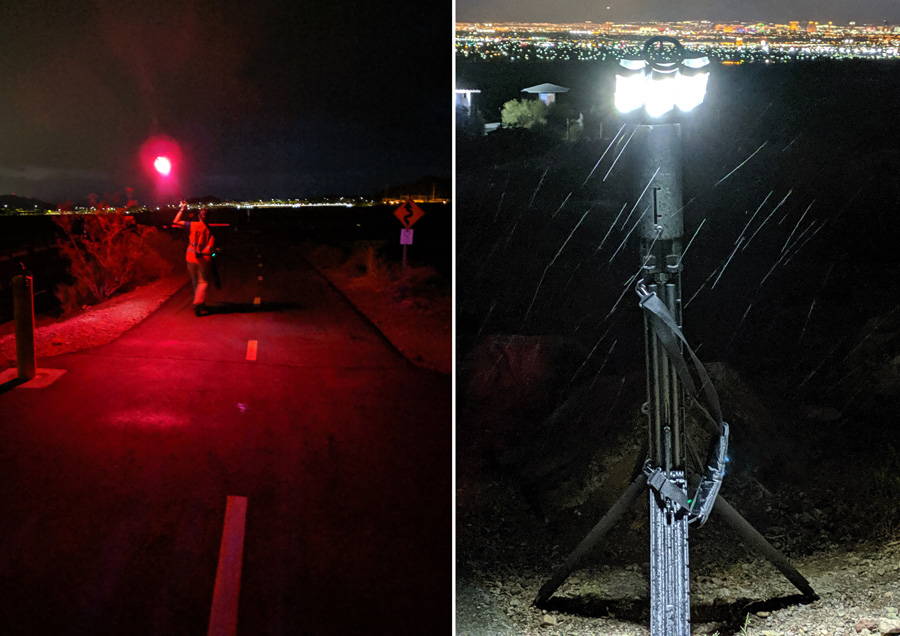 Red diffuser lens over Nomad Prime used to preserve night vision. Nomad 360 scene light used in rainy and windy conditions.
This crime scene consisted of one deceased victim that was assaulted and located on a remote path on the edge of Henderson, NV. Out in the desert, there is no ambient lighting. The site is also remote enough that it is difficult to get vehicles and equipment to the crime scene. Passing rainstorms with strong winds presented additional challenges to the crime scene investigators and made it imperative that they process the scene quickly before substantial weather compromised the scene or evidence.
Drones or UAVs provide some benefits to documenting a crime or accident scene like this one. The drone can be operated from a remote position outside of the crime scene so it can initially document and map the scene in a non-destructive manner. Also, the drone can photograph or map the whole scene very quickly. This is important for getting other investigators on site to do further, more detailed processing. It's also critical if the crime scene or accident is in a public roadway that is closed for the investigation and needs to be reopened.
Processing a crime scene requires a precise workflow or operating procedure to ensure that the scene or evidence doesn't get compromised or critical evidence does not get missed or thrown out.
Pre-flight
Before the UAV team can conduct a mapping mission of the crime scene, they must perform the pre-flight checklist. This consists of making sure the drone is calibrated, batteries are charged, Pilot in Command (PIC) and Visual Observers (VO) are in good mental and physical condition to operate the mission safely.
The team also needs to confirm that they can operate in the given airspace and that they have the clearance and waivers to fly. Lastly, they need to conduct a thorough review of the weather to ensure that a passing squall or changing conditions won't compromise the mission or endanger the investigation crews on the ground.
lighting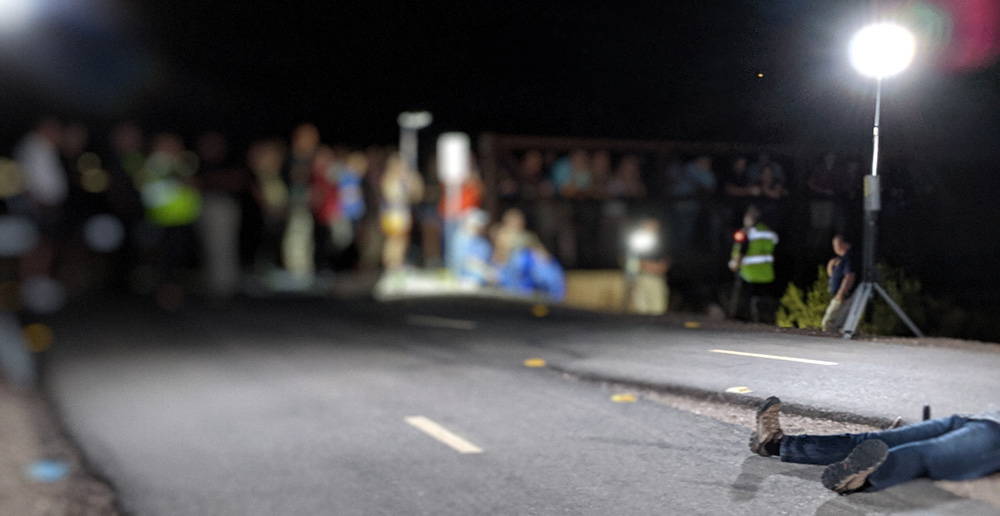 Nomad T56 scene light illuminates a mock crime scene
Due to the absence of substantial ambient lighting in this remote area, scene lighting was brought in to provide adequate lighting for documentation. FoxFury Nomad T56 lights were positioned around the perimeter of the crime scene aimed inward toward the victim providing even lighting across the whole scene. The Nomad T56s are battery powered, which eliminates the need for cords and supplemental power. Cords take time to manage, present trip and safety hazards, and can potentially contaminate a crime scene. The cordless design also allows the investigation team to quickly move and position lights, saving valuable time.
The Nomad T56 lights are also a daylight balanced, high CRI LED design. CRI stands for Color Rendition Index, and a higher CRI means better color accuracy. This means that colors look and reproduce accurately to eyes and camera sensors. For example, reds will render true red and not shift to purple or brown. Skin tones will have a natural look and color and not become green and sickly. When documenting a crime scene, this is of absolute necessity.
Greater illumination of the crime scene allows the camera on the drone to provide sharper images with less noise and more resolution. It also allows the camera to shoot at a faster shutter speed, which is important when the drone is moving above a scene photographing it.
The mapping drone was also equipped with its own lights that provide additional search illumination as well as strobing light that made it FAA 107.29 compliant to meet FAA regulations in order to fly at night.
night flight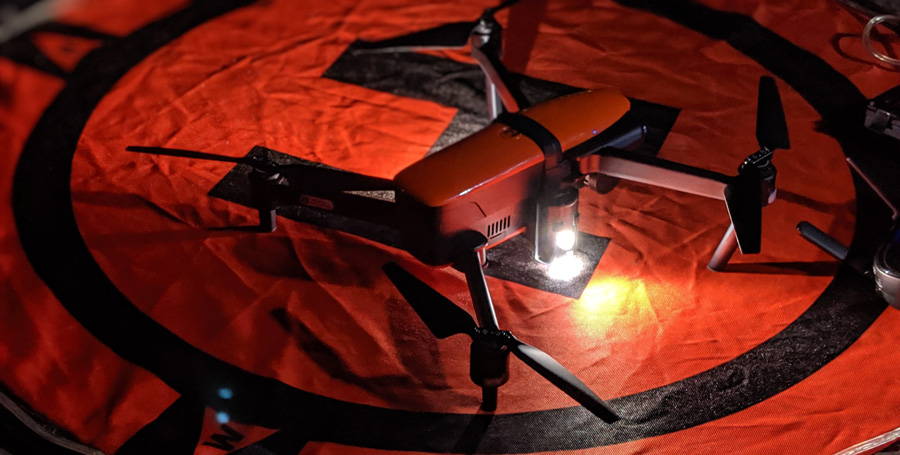 Autel Evo with lighting system powered by FoxFury
One of the objectives of this demonstration was to show how a crime scene could be documented at night. Besides having proper light to illuminate the crime scene, there were other factors that need to be taken into consideration before conducting a night flight.
For starters, the Pilot in Command needs to have a daytime waiver when flying under CFR 14 section 107. In addition, scouting needs to be performed to ensure there are no guy wires, power lines, trees, or other obstacles that could interfere with the mission.
Prior to flying the drone, the pilot must select whether to fly manually or on a predetermined set path. Both will get the job done, but the decision needs to be made in advance and considerations need to be taken. If flying manually, the drone needs to fly at a consistent height so that the highest quality map can be generated. The working area is then communicated to the ground crew so that everyone is aware of the drone operating above.
flight time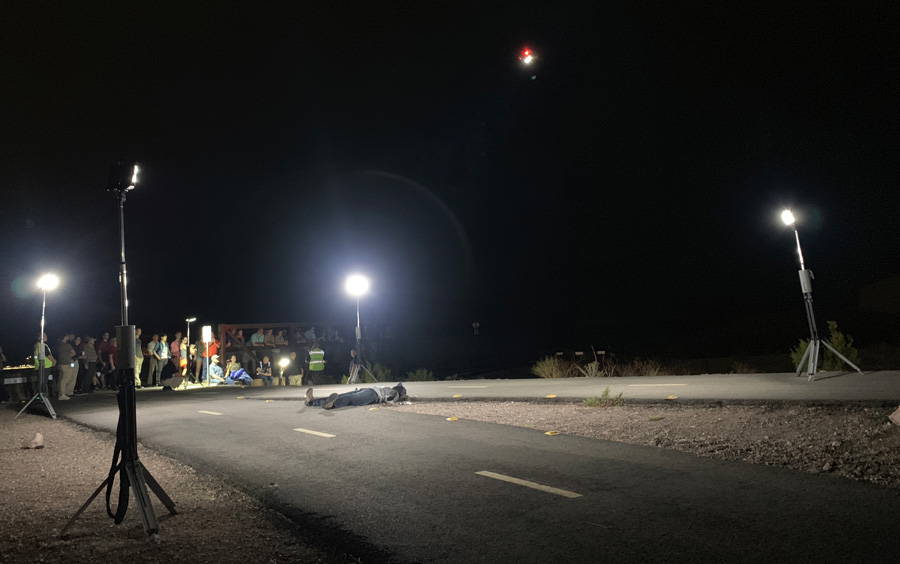 Four Nomad T56 scene lights illuminate the mock crime scene with high CRI light
For this demonstration, all of the 60 attendees were positioned at the far end of the crime scene where Douglas Spotted Eagle from Sundance Media Group provided a step by step explanation of the drone mapping operation. Sergeant Merrick of Nevada Highway Patrol was also present to explain how his teams use the drones and lighting systems for their crime scene investigation and accident documentation. On the other side of the crime scene were the Pilots in Command, Brady Reisch and James Spear. They were piloting an Autel Evo outfitted with FoxFury D3060 lights.
The Evo flew in a grid type formation capturing nadir (looking straight down) images. It then flew an orbital pattern around the scene to capture oblique images that would enhance the 3D model. Flight time was approximately 20 minutes for the demonstration. If it was a real investigation, the drone would fly a more comprehensive pattern at a slower rate to capture more images. Flight time would have increased to 30-60 minutes.
software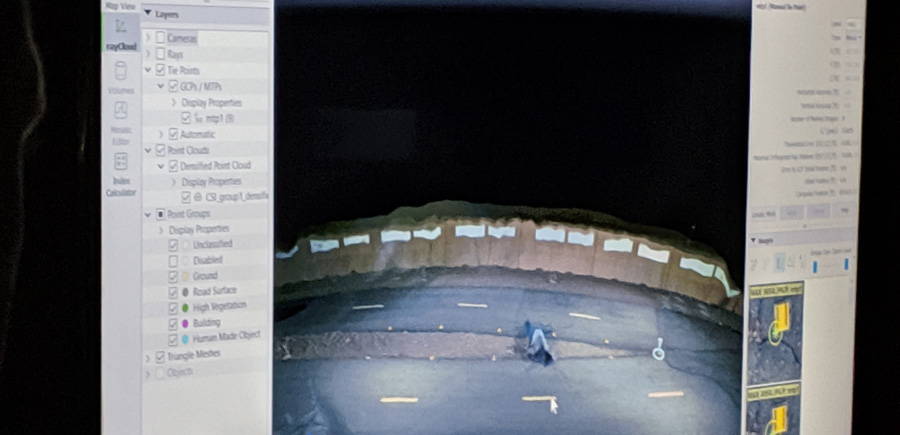 Pix4D photogrammetry software in use
Once the flight was concluded, the Evo was brought back to the landing zone, memory cards were extracted, and the data was loaded into Pix4D photogrammetry software to create an ortho-mosaic model of the crime scene. A point cloud and model were generated that evening providing a detailed rendering of the scene.
results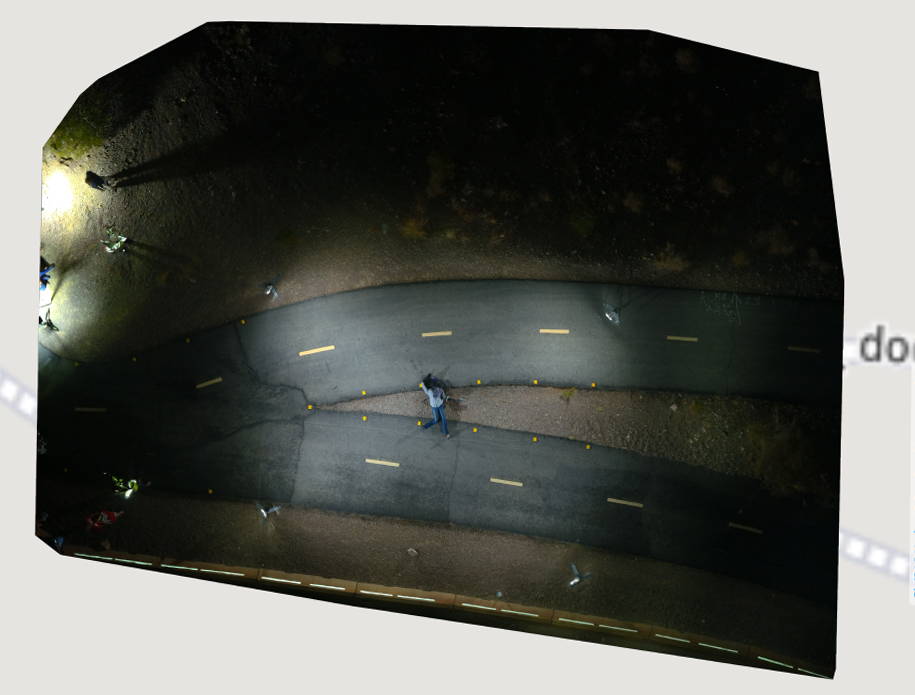 A 2D orthomosaic map can be seen above. You can see the point cloud and orthomosaic map (with 3D data) here. Hold CTL + SHIFT to rotate the scene in 3 dimensions.
This demonstration illustrated how drones can be used to create detailed models of a scene that can be analyzed immediately as well as years after the incident. Even in a remote, challenging area, the scene can be photographed, mapped, and processed quickly and with minimal disturbance to the scene itself. These technologies provide investigators a whole new set of tools to complete their jobs safely, efficiently, and accurately.