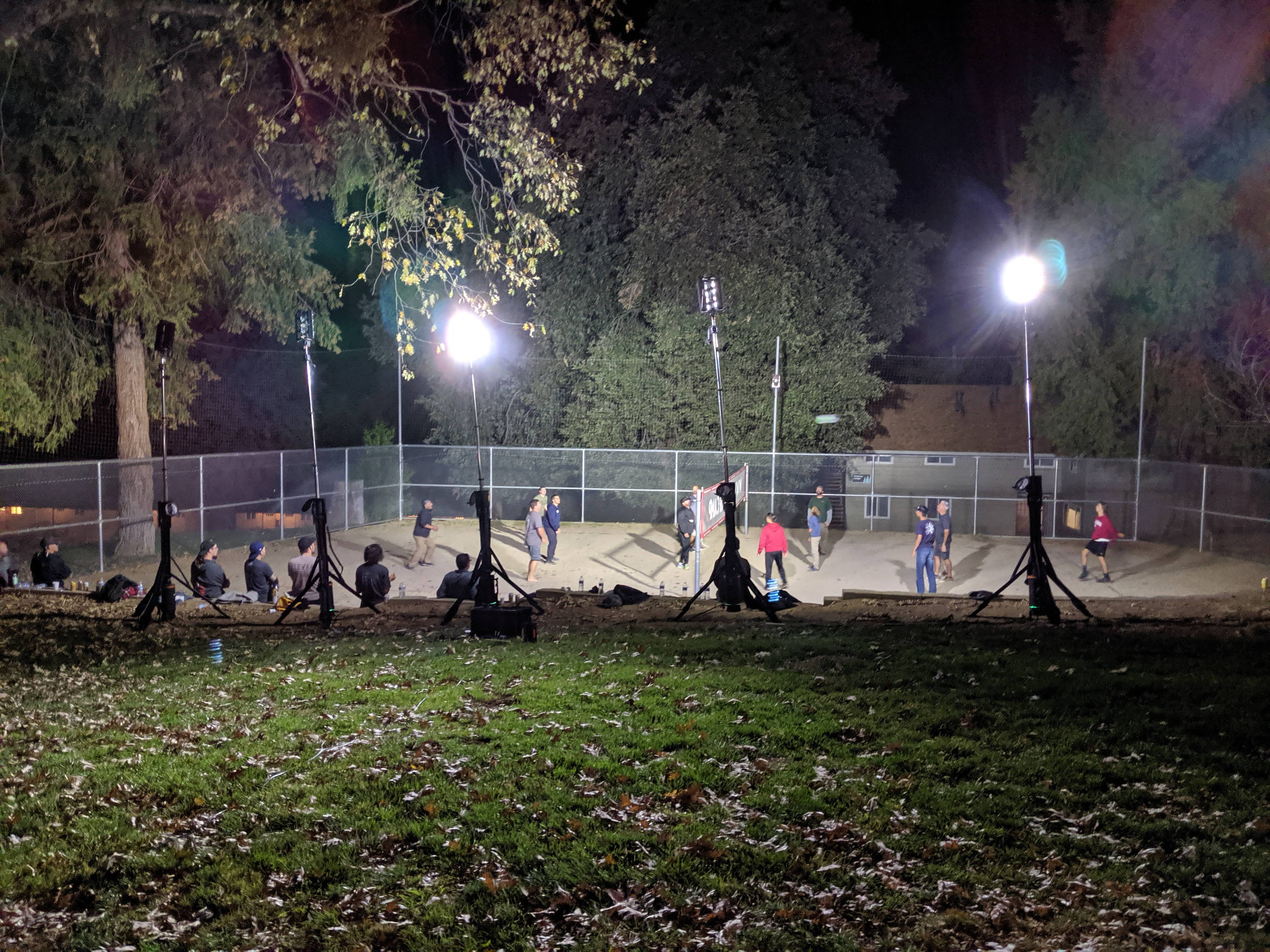 Written by Antonio Cugini, Director of Marketing at FoxFury Lighting Solutions
Every year, my local church hosts a 3-day men's retreat in the mountains for a crowd of over 300 people. The property is simply so large that there are areas without sufficient lighting for large events. This means that portable lighting is critical for any evening or night activities.
Oftentimes, lighting is one of those things that come up in an event planning meeting followed by, "oh yeah...we forgot about that", followed last minute scrambling, followed by a lot of money spent on last-minute solutions. Luckily, this retreat was able to avoid that by taking advantage of the portability and versatility of FoxFury lights.
FoxFury has provided lighting for this event for a few years now. Our Nomad Scene Lights are so critical to the event's success that I was invited to one of the planning meetings this year. In that meeting, I learned that registration at the retreat has always been a challenge. One of the biggest headaches is directing people to their sleeping lodges as there are several of them located around the property with signage that is very hard to see at night.
The team suggested that we make some kind of color coding system so those running registration could point attendees to a location with a unique color. This would allow the guest to find their rooms faster and shorten the registration wait time, much appreciated when they're lugging heavy bags and equipment up and down steep terrain.
I already had a clear solution in mind. FoxFury created a collection of color bands to go over our Nomad 360 Scene Lights a few years ago. The original intent was for EMS professionals to use them as medical triage stations. Not quite the same high stakes situation, but they would do! The color bands come in five colors: red, yellow, orange, green and blue.
When people registered, they were given name badges and their sleeping lodge. Each lodge had its own distinct light color, so attendees could easily walk down the path and identify where they were supposed to go. It saved lots of time throughout the night and made the registration process much easier.
The other scene lights proved to be of tremendous value as there was a wildfire nearby that threatened to knock out the normal electricity at any moment.
FoxFury Nomad lights were used around the perimeter to supply additional safety for all attendees. See photos below:
(2) NOWs used in the merchandise tent
(2) Primes and (3) T56s were used in the gaming areas
(1) NOW and (1) T56 in registration area used to check people in and to see the auction items on display
(4) Transformers used at the volleyball court (see first photo above)
In the end, everything went smoothly. Lighting is an often underestimated or forgotten need at many outdoor events. The Nomad Scene Lights are portable, rechargeable, and cordless, so they can be up and running in seconds to provide up to 24 hours of light for any event. Check out the Nomads in action at a similar event, an outdoor fall festival at a school with no lighting. If you'd like more information about our Nomad line, please contact us!
---
Feb 27, 2020

Category:

Blog
Comments: 0