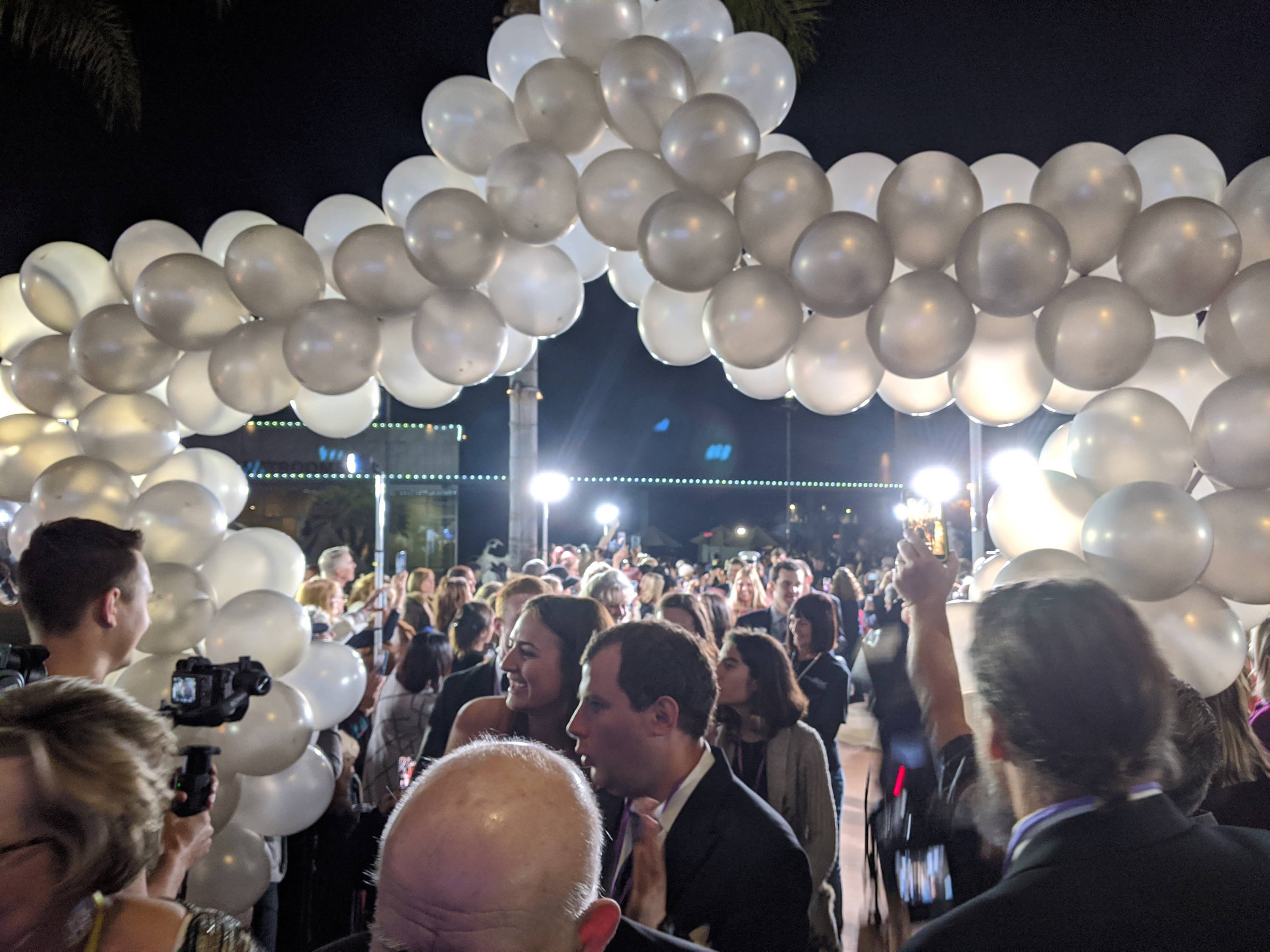 ---
One of our favorite events of the year is the Night to Shine. This is a national event put on by the Tim Tebow Foundation to give special needs kids (kings and queens) the prom of their dreams. Night to Shine 2020 took place on February 7th at 721 churches across the country. Our local event was held at North Coast Church in Vista, CA.
The event took place in the evening to maximize attendance and flexibility for attendees, family members, and volunteers - 860 people in total. Outdoor lighting was minimal, so additional support was needed to make the area as safe as possible.
The check-in area spanned about 300 ft (90 m). This is where guests arrived and to meet up with their buddies who escorted them throughout the evening. There was a separate table for guests to pick up their corsages and boutonnieres. As it got darker and the plaza filled up, it became harder to see the check-in area from the parking lot where guests were still arriving. A Nomad 360 with a green color band was placed right next to check in for easy identification. Being over 8 ft (2 m) tall, the light was easy to see as it cleared people's heads and made it faster and simpler to find.

One of our most important tasks of the evening was to light up the red carpet. Guests and their buddies got a chance to walk the red carpet like movie stars, stopping at the step-and-repeat stations at the end for photos. Needless to say, the lighting here needed to be perfect. There was a local news crew, photographers, family and friends who were shooting pictures and cheering everyone on. Six Nomad T56 lights were set up on the red carpet spaced about 20 ft apart. These lights have 95 CRI 5600K lighting, which accurately represents skin tones and clothing colors, making for higher quality photos. Because the lights are cordless and portable, photographers could easily move them depending on the group size and position needed.

General lighting for the overall area was also important because it covered over 7,000 square feet. Four Nomad Transformers were set up around the perimeter of the event to fill in dark areas.
A prom wouldn't be complete without a limo! Guests lines up outside the venue for limo rides in a darkened area. A Nomad NOW was put on the ground to help eliminate any hazards getting in and out of the vehicle. Volunteers could easily pick it up and hold it for additional lighting elsewhere.
The coffee and tea station was very popular because it was 50 degrees in Southern California. A Nomad 360 was placed underneath the tent to reflect down onto guests so they didn't have to navigate hot coffee, creamer, and stirrers in the dark.
At the end of the evening, volunteers stayed to help tear down in order to get the venue back in working order for the next day. This included removing decorations, relocating furniture, and helping caterers, musicians, photographers, and the AV crew get their gear into vehicles. All of the Nomads were left on to facilitate this process, which only took two hours.
And just like that, they rolled up the red carpet, and the night was over. We are so grateful to be a part of the Night to Shine event, providing silent, portable, and quality light for special guests and volunteers.
Thank you to Deb Bostwick and North Coast Church for the incredible guidance and support in letting us be a part of this magical evening. And thank you to KFMB San Diego for covering the event. Check out the video below!
If you are interested in seeing other applications of the Nomads, please check out our case studies. If you are more than interested, you can contact us to schedule a demo!
Feb 14, 2020

Category:

Blog
Comments: 0