---
Every fall, one of our local elementary schools puts on a big fall festival as their fundraiser. Over 800 students and their families come out to enjoy games, food, and family fun. This event used to take place on a Saturday morning, but it was moved to the evening to increase attendance and excitement. The school has a beautiful outdoor space of over two acres. But there is hardly any outdoor lighting besides some small fluorescent work lights.
*Cue FoxFury*
We donated scene lights to this event a few years ago to help them out. It was one of our first times lighting an event like this, and boy, have we learned a lot since then. This our third year participating, and we wanted to share our experience with lighting strategy and execution at an event like this.
This school consists of single story buildings only. The campus is fairly spread out, and the festival area covers about two acres (370 m perimeter). There is very little ambient light, so external flood lighting is essential.
Electrical cords ran along the perimeter to power food, games, and AV equipment. Outlets were very limited. Running those cords through the walking areas for lighting would've been a nightmare, creating trip hazards for the kids and parents.
The festival had 20 booths, multiple food vendors, and a central dance area with a DJ.
Four FoxFury Nomad Transformer lights were positioned in the center of the playground area. Each one used the flood light configuration on high mode. This pushed light in all four directions, illuminating the front end of the bounce houses as well.
Two Transformers were also placed at opposite corners of the area, one to light up the dance floor, and the other to light up other playground equipment. This area would've been pitch black otherwise.
Two Transformers lit up the backside of the bounce houses. The lights are 12 ft tall, but the bounce houses were 13 ft tall, which means we couldn't reach over them. Instead, we lit up the spaces between and around them to keep the kids safe.
Another Transformer stood post in the parking lot, lighting up the entrance and exit to the event. The school is in the middle of construction on solar panels, so there was no light outside the school grounds.
Nomad NOWs were magnet mounted to the roof of the aluminum covered eating area to provide light for families eating or just taking a break.
"FoxFury Lighting came through for us yet again! Each year, this dedicated team donates their time, expertise and lighting equipment to support the Empresa Performing Arts Foundation for our annual Fall Festival. Without their lighting, this event would literally be in the dark. Each year, Antonio and his team take the time to ensure our event has good, functional area lighting to keep our children and their families safe. Thank you FoxFury for your continued support. We are all so grateful!", said Halley Sanchez, Harvest Festival Event Coordinator.
What goes up, must come down. At the end of the night, dozens of volunteers stayed late to tear down booths, AV equipment, food stands, and entertainment. FoxFury lights were strategically stowed, so key tasks could be done in the proper order. When we were done, the area that was so bright a few minutes before was completely dark.
Many situations our lights find themselves in include extreme weather, life or death stakes, or rough impacts. Although this wasn't one of those situations, the Nomads were still a perfect solution. The lights last from 3 to 24 hours, they're cordless, and completely waterproof. They can be set up in seconds, eliminating a lot of headaches in the event planning process.
If you are interested in seeing other applications of the Nomads, please check out our case studies. If you are more than interested, you can contact us to schedule a demo!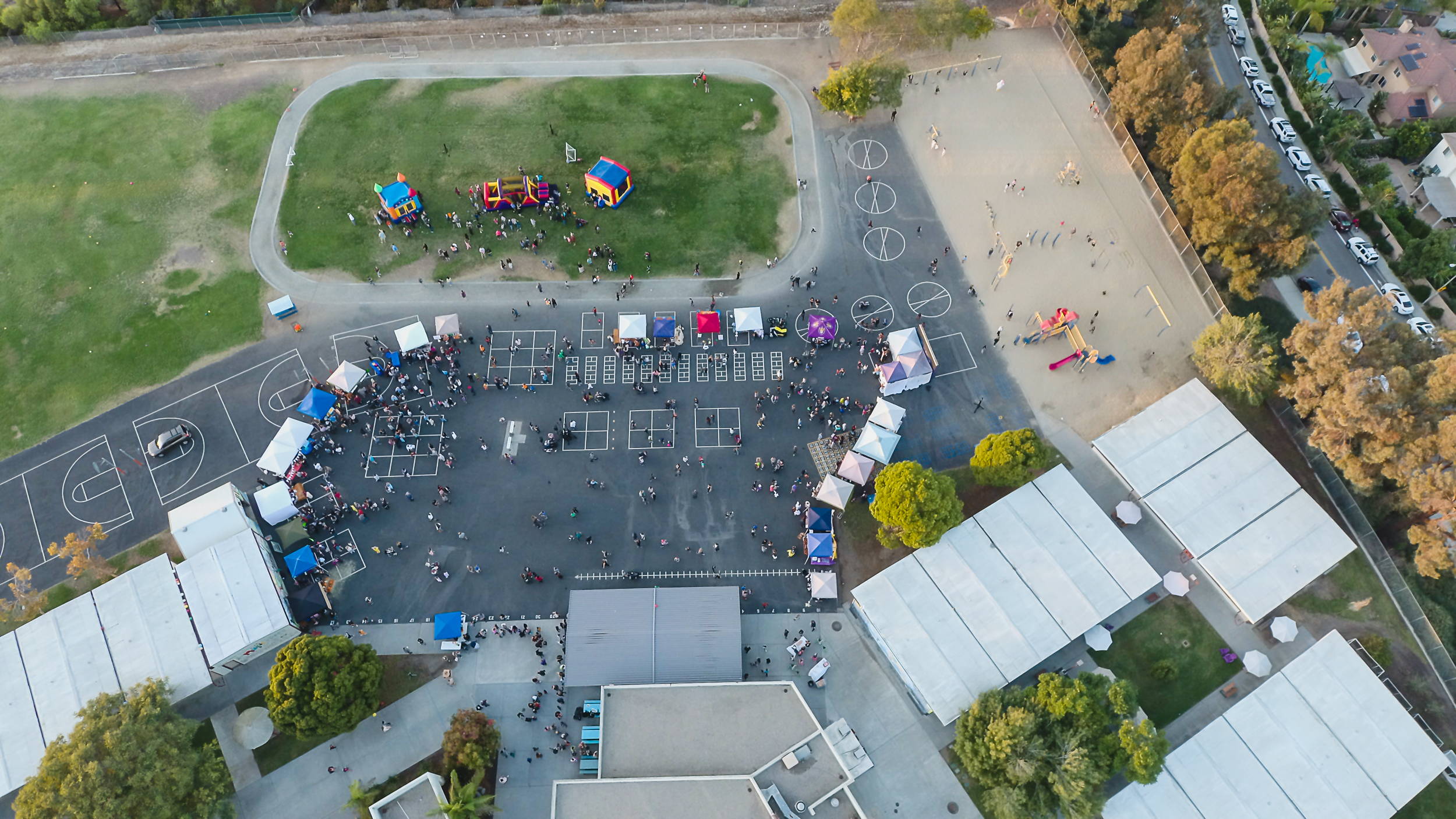 The school property in the daytime
Nov 26, 2019

Category:

Blog
Comments: 0