The recent extreme winter weather across much of the U.S. has left a lot damage in its wake. With Winter Storm Maya due to hit the East Coast this week, many are wondering if there is any end in sight. While this weather makes it nearly impossible to get around for civilians, imagine how difficult it becomes for first responders to do their jobs...
Scenario 1
Firefighters respond to a house fire in the middle of the night. It's 17˚ F outside with a wind chill of -10˚ F. Icy streets make navigating the area a challenge. Responders skate while carrying evacuees in one direction and hoses in another. Hose water is spraying back and freezing to anything it touches. The light from the emergency vehicles isn't enough to reach the scene, and headlamps and handheld lights are giving out from the cold.
Scenario 2
 
A highway car accident is called in just after nightfall. First responders can immediately see that the highway is littered with shattered plastic and metal tubing. They can tell that someone has been ejected to the side of the highway where it's pitch black and covered in freshly fallen snow.
 

Scenario 3

Snow mobilers crashed while racing through a dense part of the woods on a cold bitter night. First responders work their way through the trees, snow, and debris to get to the victims.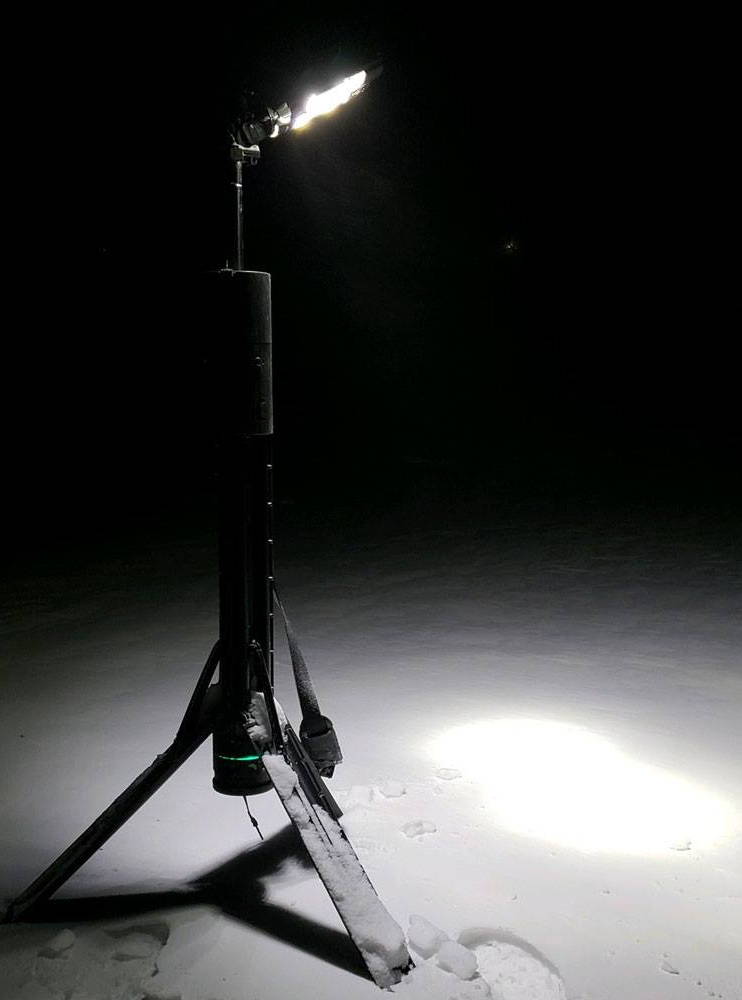 Nomad 360 in -13 degrees F in Iowa.
They have to piece the scene together with whatever lights they can bring with them, which makes the recovery effort much more tedious and time consuming.
Any responder that has worked a scene in the winter can picture these scenarios in their minds and know that one of the greatest challenges they will face is sufficient lighting. Rural and wilderness response often prevents responders from using the lights already mounted to vehicles, which have to stay up on the road. While light towers on emergency vehicles can be aimed a certain way, the vehicle may be facing the wrong way or not be close enough.
For years, FoxFury Lighting Solutions has been designing their lights to withstand extreme heat, cold, and impacts. I live in Iowa, where the weather dropped to -70˚ F last week. I took this as an opportunity to re-evaluate FoxFury's lights as tools for first responders in some of the most extreme cold situations. Here is what we found.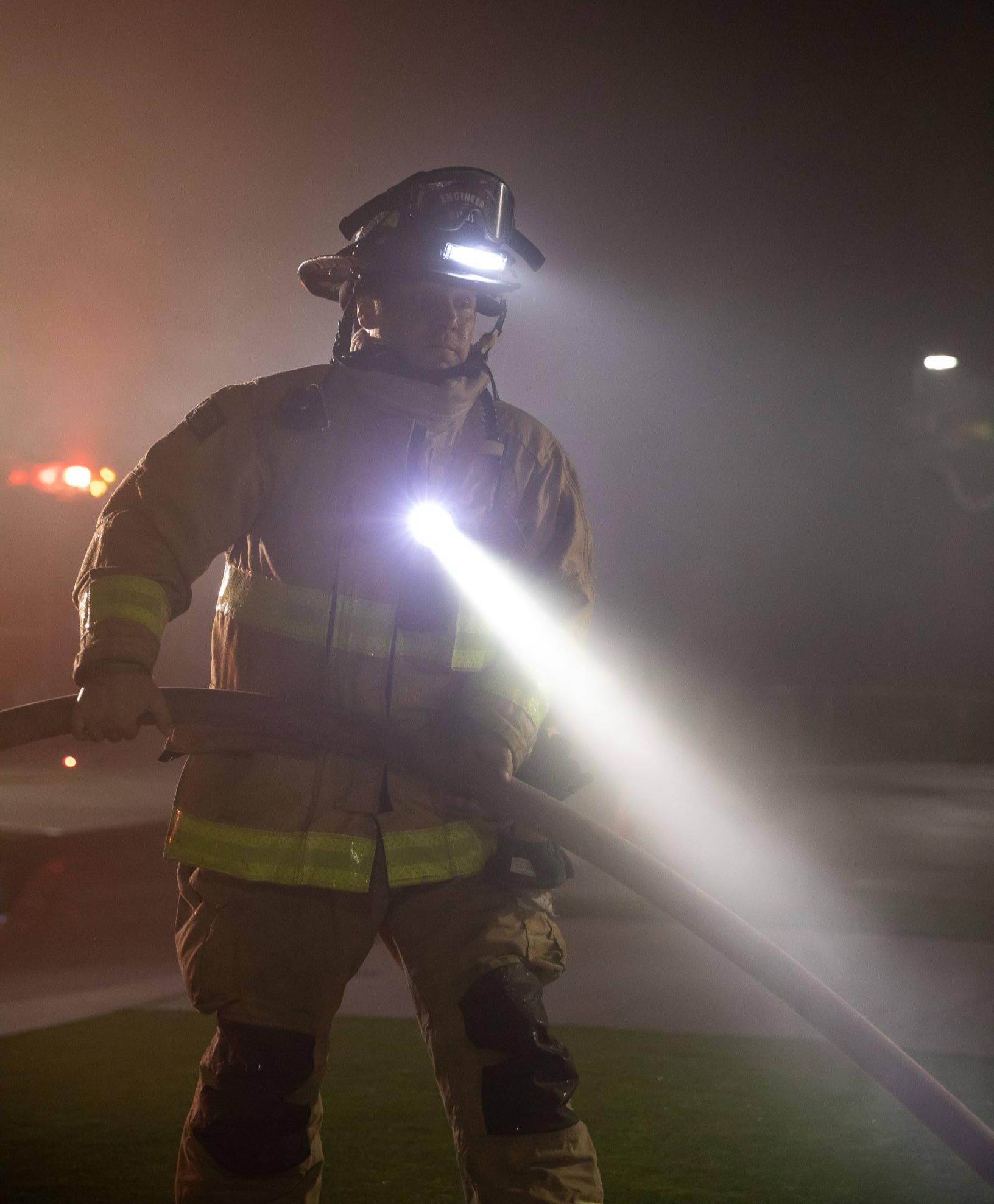 Firefighter uses Breakthrough right angle light to work hands free.
The FoxFury Breakthrough Right Angle Lights come in a couple of styles. You immediately notice that the BTs have a larger grip and rimmed base, which prevents the light from slipping when carried in carried in a cold hand covered by an ice-covered glove. You turn the BT on and off with your thumb, allowing you to maintain a full grip on the handle of the light. If you have ever dropped your light in the snow, you'll appreciate the ease with which you can hold and operate this right angle tool. To add to its winter-friendly design, the BTs all come with a heavy duty stainless steel clip that can attach to a belt, bag, or turnout gear in a split second. While we had to take off a glove to change the batteries, the battery cartridge inside of the BT prevents the user from spilling the batteries out in the snow, which was a big plus. The battery switch only took about 15 seconds.
The Breakthrough is a professional search tool and is perfect for searching up close (like in the backseat of a car) or for searching through the woods with its long-range beam. Completely submersible and easy to use in the coldest of weather, the Breakthrough is definitely winter ready.
Max Output: 200 - 700 lumens (depending on the model)
Battery Life:

 

Up to 12 hours
Battery Type:

 

(4) AA Batteries
The FoxFury Scout is a great go-to light designed to clip anywhere and illuminate close spaces. The light has an easy control button at your fingertips, making it another cold-hand-friendly solution. With a flashing mode, this light is perfect for marking vehicles, obstructions, and even responders on a dark highway or crowded scene.
The Scouts come with all white LEDs or Red and White LEDs. The white mode is incredibly bright and has a surprising throw. The red mode preserves night vision and prevents snow-blindness that often happens after a fresh snow. We never had to change out the batteries despite hours and hours of use, but the Scout battery change is quick at approximately 10 seconds and was relatively simple despite numb fingers. Add this small light to your trauma bag, throw it onto the dashboard, or attach it to your ballistic vest. The Scout can be a life-saver, especially on a cold and blustery night when visibility is low and the snow is high.
Max Output:

 

65 lumens
Battery Life: 12 - 50 hours
Battery Type:

 

(3) AA Batteries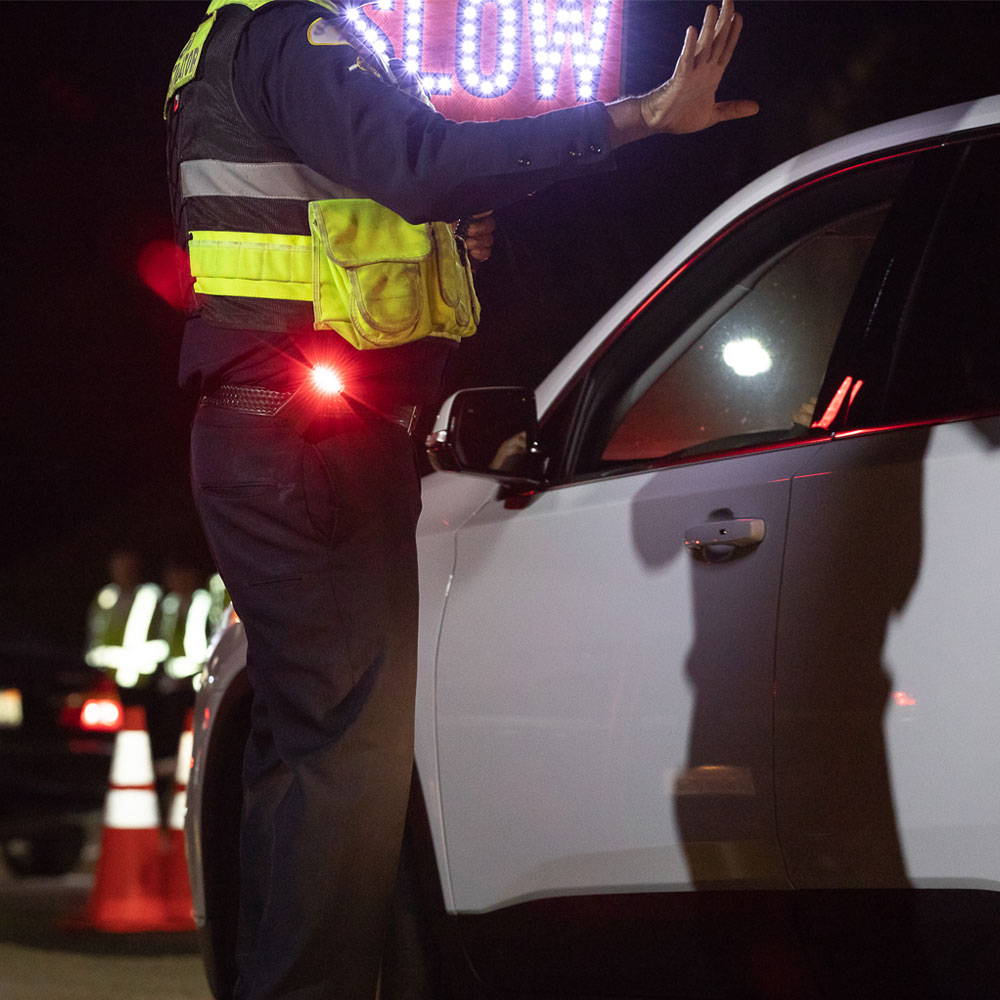 Police officers uses red mode on Scout as a safety beacon during traffic stop.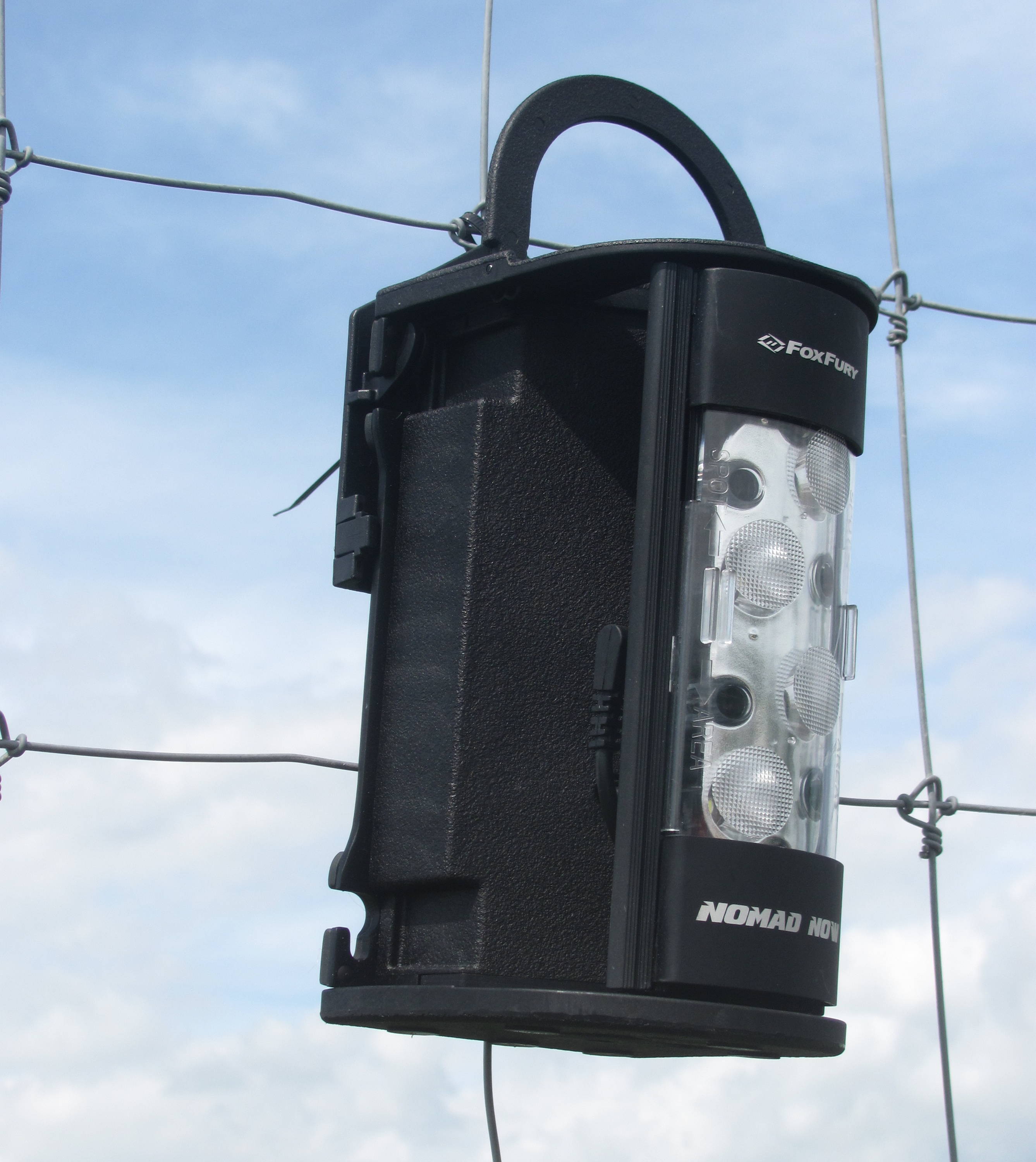 The Nomad® NOW is a modernized version of the lantern. Grab the handle, turn it on, and you are ready to go. This compact workhorse has an easy to push button with three modes (low, medium, and high), making it perfect for cold weather. The light can be easily carried, set on the hood of a car or right on the ground, used vertically or horizontally, and light a large area for up to 24 hours before you return it to your vehicle to charge. Completely submersible, the NOW's uses are endless. The NOW has an indicator light that tells you when your battery is getting low, a nice feature on longer nights or after multiple uses on back-to-back calls. The head of the NOW swivels with just the nudge of your cold hand, another reason the light is easy to use in the cold.
The Nomad NOW can be mounted to a tripod, comes with a magnetic mount, and has a remote for hands free operation! With the ability to light over 1,700 feet ahead of you, this lantern exceeds all expectations.
Max Output:

 

3,000 lumens
Battery Life:

 

Up to 24 hours
Battery Type: Rechargeable Lithium Ion
Before you even deploy the Prime's tripod legs, making it a 96 in (244 cm) tall scene light, this bazooka-shaped light slings over your shoulder and can instantly give you a beam of light over 3,000 feet. FoxFury has designed an easy-to-operate mode button for the frozen glove, making it easy to switch between modes (low, medium, high, and flash). With a built-in diffuser cap, the Prime can be used as a spotlight and a wide-angle scene light. It deploys from your shoulder to its full-height stance in less than 10 seconds.
The ruggedness of the Prime is a huge benefit, especially in the bitter cold temperatures some of us experience. Dropping the light on pavement in temperatures below -40˚ F hasn't affected the nylon body or the light head in my experience.
Cold hands down, this is the best light for search and rescue, field maintenance, emergencies, and disaster response. The Prime is hands free, cordless, and boasts a 24-hour run-time. When submersing the light, even in the cold, we saw little to no change in the light's battery life, which is useful in frozen lake rescue or heavy wet snowfalls.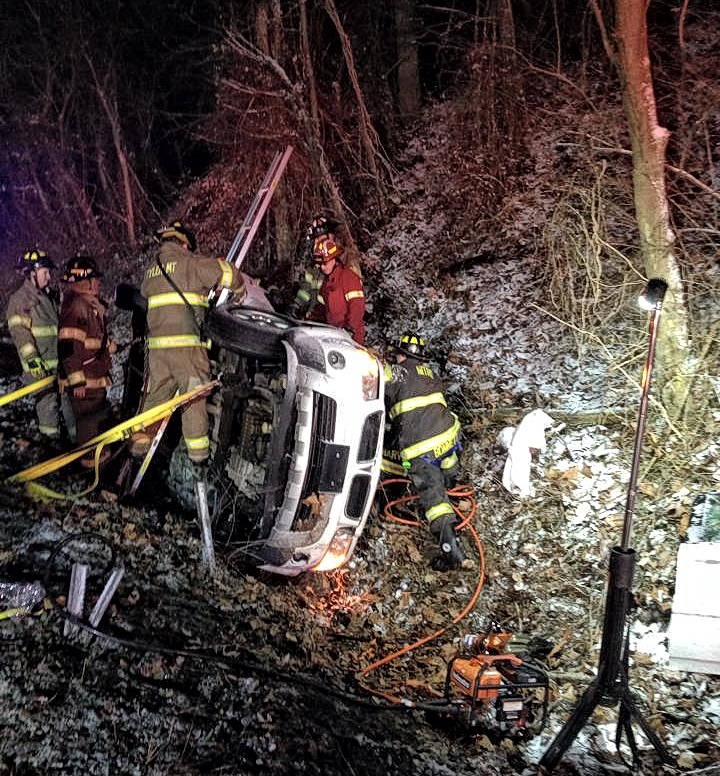 Firefighters use the Nomad Prime in a car accident on a rural wooded roadway.
Like the Prime, the 360 is easy to deploy to its full scene light height of 102 in (259 cm). Its triple panel light head can be utilized to illuminate an area 360 degrees around its base or can be opened to give directional lighting over 3,000 ft (914 m) away! This light offers all the same abilities and modes as the Prime but adds 3,000 more lumens to the mix and the ability to drop the light's focus directly down making it the perfect light for EMS or investigators. The 360 is also submersible with a 24 hour run time so this light is a great investment for your field command, long rescues, or large accident scenes.
Text
In testing the FoxFury lights, we found that despite their California origin, these lights were designed with cold weather in mind. The ease of use with a frozen gloved hand stood out and made these lights exceptional in the field. The submersible feature and ruggedness also stood out as heavy wet snows and constant jostling in extreme cold never damaged or influenced the light's performances.
As a last thought, the lights are designed differently than other lights on the market. It takes a few trainings to become comfortable with the operation of the Nomad family, especially the Prime and 360, but once you are familiar with these lights, you will never use another and they will simply become an extension of your training and instinct.
NOTE: Weiss' team has field tested and deployed FoxFury lights in temperatures as low as -40 degrees F with windchills of -70 degrees F.
Feb 11, 2019

Category:

Blog
Comments: 0